LANDMARK TRAINS CAMPUS KEEPERS ON EFFECTIVE COMMUNCATION
The Directorate of the University Wide Courses, Landmark University on Wednesday 16th October 2019, organized a one-day training program tagged "English Speaking Skill and Capacity Building Workshop for Landmark University Campus Keepers" with a view to enhancing their communication skills within and outside the University in line with the world-class status drive of the University. The workshop series which began in the last academic session has been designed to help participants build confidence and express themselves better in the English language.
Addressing the participants, the Vice-Chancellor, Professor Adeniyi Olayanju, appreciated the foresight of the organizers while emphasizing the relevance to actualizing the vision of the University – becoming a world-class university. According to him, capacity building is one of the University's core values which must cut across all strata of the University. He, therefore, urged participants to see the opportunity as an avenue to add value to their work by refraining from speaking carelessly.
Speaking earlier, the Director, University Wide Courses (UWC), Dr. Abimbola Oluyori stated that the programme is a community development initiative from the directorate which focuses on capacity building. Dr. Oluyori added that such training will open them to new opportunities, improve their confidence, assist them in the delivery of their duties and help them in their daily endeavor outside the campus. He, therefore, enthused them to approach the training with all seriousness in order to partake in the positive impact of the event.
The participants' appreciation of the programme could be measured with their readiness and cooperation exhibited throughout the training as they paid rapt attention to the lectures and asked questions where necessary for better understanding.
Today @ LMU
Omu-Aran, NGclear sky 18.84oC
See More >>
Subscribe to our Newsletter
Get the latest news and updates by signing up to our daily newsletter.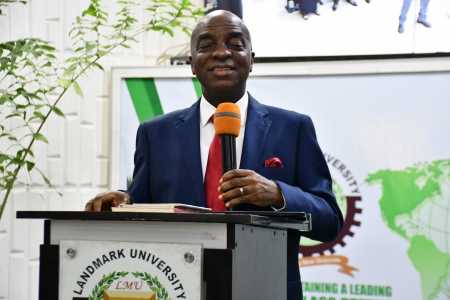 Story of the week
LANDMARK HOLDS 2022 STAFF EXECUTIVE ADVANCE