LANDMARK WINS 1ST POSITIONS IN SINGLE AND GROUP CATEGORIES TO QUALIFY FOR NATIONAL CODET COMPETITION
Engineering students of Landmark University have won 1st Positions for both single and group categories in the 2019 edition of Committee of Deans of Engineering and Technology of Nigerian Universities (CODET) North-Central Zonal competition on Tuesday, 25th June 2019, to qualify for the National finals of the competition to be held in Abuja later this year. The competition which was between the host institution – Landmark and the Federal University of Agriculture, Markurdi was highly contested with high-tech problem-solving inventions of the engineering students.
While welcoming the students to the event, the Vice-Chancellor of the host institution, Professor Adeniyi Olayanju, urged the students to strive towards attaining remarkable innovations in their respective engineering fields. According to him, without engineering there is no nation's building. "Engineering with remarkable innovations drives growth and development. It is one thing to impact knowledge on you as students, especially theoretical, but it is another thing for you to acquire skills, more importantly with the right attitude. So for me, it is all about knowledge, skills and the right attitude for you to achieve the desired remarkable innovations in your chosen fields," he said.
Professor Olayanju praised the CODET for their foresight, saying it would greatly assist in creating the enabling platform for the emergence of new remarkable engineers among the younger ones.
In his opening speech, the Chief Judge for the competition, Professor Babatope Alabadan who is the Dean, Faculty of Engineering, Federal University Oye-Ekiti, stated that the competition was organised to encourage hands-on activities among students in the engineering fields across the nation with a view to helping them translate theoretical knowledge to practical in their various fields thereby solving human challenges. He added that the competition in its evaluation would take into cognizance the problem, motivation, approach adopted, uniqueness, local content, knowledge of students in the area of research and the significance of the project among others. With him were Professor M.A. Akintunde Dean, Faculty of Engineering, the Federal University of Technology, Akure and Dr O.A. Oni Dean, Faculty of Engineering, Ekiti State University, Ado-Ekiti.
Earlier, Professor Christian Osueke, the Dean of the College of Engineering, Landmark University, described the competition as a veritable platform for students to test their engineering prowess with other competitors. He thanked CODET for the honour and recognition given to the Institution to host the North-Central zonal stage of the competition.
"We are happy for this singular honour from CODET and we also look forward to a better final outing at Abuja in August," he said.
Today @ LMU
Omu-Aran, NGlight rain 27.17oC
See More >>
Subscribe to our Newsletter
Get the latest news and updates by signing up to our daily newsletter.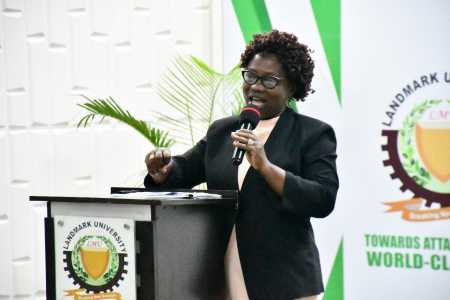 Story of the week
ACTING VC UNVEILS URGENT ACTION PLANS TOWARDS VISION REALIZATION