LANDMARK RECEIVES BPZBP LTD ON AN AGRIBUSINESS VISIT
The Management of Landmark University ably led by the Vice-Chancellor, Professor Adeniyi Olayanju on Tuesday, 18th February, 2020 received Mr. Chyke Samuel, the Operation Manager, BPZ-BP LTD on an agrobusiness visit to the institution.
Receiving Mr. Chyke, Professor Olayanju revealed that although agricultural practice in Nigeria has over the years improved, there are still other areas lagging and not yet meeting the world-class standard, hence the audience granted BPZ-BP LTD. Professor Olayanju further emphasized that relevant innovations should be encouraged to remedy the gaps begging for attention. "We cannot shy away from this reality of food insecurity and poverty ravaging our continent. It is high time we doubled our effort in the application of science and technology in agriculture," he added.
While anticipating that the presentation by BPZ-BP LTD would explore more initiative techniques and strategies for boosting agriculture towards addressing the exponential population growth in Africa and its economic implications, the Vice-Chancellor recognized precision farming and sustainable agriculture as one of the panaceas to the challenges facing the black race.
The Operative Manager, BPZ-BP LTD Mr. Chyke Samuel in his presentation on Arisetech Microbial Inoculant said the innovation's usefulness cuts across virtually all agricultural sectors from livestock to plants, poultry, aquaculture, waste management, water conditioning and many other. Mr. Samuel noted that Arisetech when applied appropriately, has diverse benefits which include increase bountiful harvest, decrease dependence on chemical additives such as fertilizers, acts as growth stimulants for faster growth and improve livestock health and quality among others. Mr. Samuel added that the company had chosen the university as its pioneer partner in the north-central region of the country due to its pedigree and commitment to the agrarian vision and is ready to experiment with the product on her farm.
The Operative Manager, BPZ-BP LTD Mr. Chyke Samuel during his presentation of the Arisetech Microbial Inoculant to the Landmark management

The Vice-Chancellor, Professor Adeniyi Olayanju addressing the gathering

The Registrar, Miss Adefunke Oyinloye while introducing the Landmark management team to the guest, Mr. Chyke Samuel, at the meeting

The Vice-Chancellor and other members of management in a group photograph with the Operation Manager BPZ-BP LTD, Mr. Chyke Samuel
Today @ LMU
Omu-Aran, NGclear sky 19.27oC
See More >>
Subscribe to our Newsletter
Get the latest news and updates by signing up to our daily newsletter.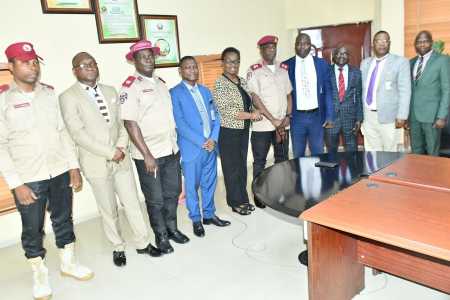 Story of the week
LANDMARK UNIVERSITY RECEIVES NEW FRSC KWARA SECTOR COMMANDER