LANDMARK PARTNERS EXPERT ON LARGE SCALE BAMBOO PRODUCTIONS
The economic, developmental and research benefits of Bamboo plants which have the potential demand of 63 million tons valued at over US$10b by the year 2027 globally were the focus of the meeting between members of University Management ably led by the Vice-Chancellor, Professor Adeniyi Olayanju on 7th March, 2019 and Bamboo Science Innovations (BSI) with headquarters in France.
Making presentations on these benefits, the CEO of Bamboo Science Innovations (BSI) and World Bamboo Ambassador for France, Dr Jean-Luc Kouyoumji connecting via Skype noted that Nigeria has the largest repository of Bamboo collections in Africa and his organization would be willing to partner with the University to harness the untapped goldmine called Bamboo. He described BSI as a non-profit organization established in 2007 with over 2000 experts in 45 countries. He revealed that BSI has been involved in various Bamboo projects, including technical assessments, housing, composite materials amongst others. In his statistics of the global bamboo market, Nigeria reports 26.8 million tons of growing stock on 1.5 million hectares of land and it is used for flooring, decking, PP, OSB, plywood, lathed, composite materials and fibrous for insulating. The Bamboo according to Dr Kouyoumji is used to produce over 1000 paper pulp and byproducts, charcoal, pellet, biofuel, pyrolysis, handicraft, furniture decoration. Noting the benefits inherent in its value chain for viable economic growth, he said that the future of bamboo is very appreciable and it remains a very productive plant because of its high-speed growth, versatility in terms of rapid renewal, and broad range of livelihood applications. He, however, added that BSI would be willing to create a Bamboo Development Team that will work with Landmark to formulate a Master Plan for Bamboo development by providing requisite knowledge, networks, experts, training and partners.
In his response after the presentation, the Vice-Chancellor stated that the coming of BSI at this time is apt, noting the University's resolve to widen its tentacles to accommodate more innovative agricultural ideas capable of improving the livelihood and wellbeing of the black race in particular and the entire universe at large in its quest for attaining a world-class status. He stated further that the University is glad to note that BSI is involved in the promotion, use and the technical progress of bamboo from nursery development, plantation, harvest, and the applications in the field of construction, structure, frame, carpentry, panels, the environment, energy, and furnishing. "As a University with a heartening profile in research, we are stimulated by your involvement in research engagements; hence we both seem to converge in operation on the platform of research. So it is exciting to observe that BSI conducts research alongside the International Network of Bamboo and Rattan (INBAR) and the World Bamboo Organization to gather information on bamboo for extension materials, publications, scientific articles, study reports, collections and other media."
Professor Olayanju also noted that the University appreciates the obvious devotion of the BSI to the wellbeing of the world as evident in their frantic efforts at promoting bamboo as a major raw material for the production and manufacturing of products intended for the export market and domestic uses towards enhancing sustainable growth and development.
Speaking on behalf of the Landmark University Bamboo Innovative Group (L-BIG), Professor Christian Osueke reiterated that Landmark as an agrarian University is currently exploring the rich resources hidden in bamboo with the intent of translating the available hidden treasures in bamboo to usable products towards mitigating the challenges of poverty and climate change. The Chairman of the L-BIG, stated that the Group is committed to being a continental Centre for bamboo economic development by engagement of available resources geared towards effective produce and product utilization and thus transform the untapped resources in bamboo to meaningful and product-oriented innovations.
Also lending his voice, Mr Ukeme Uyah, the Facilitator of the meeting stated that Landmark should explore the available resources in bamboo, as it will contribute a great deal to the nation's GDP and he described the choice of the University by BSI as apt because of its agrarian emphasis.
Today @ LMU
Omu-Aran, NGclear sky 20.37oC
See More >>
Subscribe to our Newsletter
Get the latest news and updates by signing up to our daily newsletter.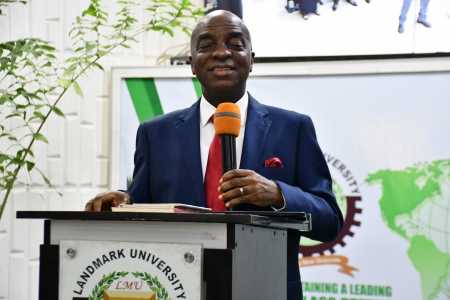 Story of the week
LANDMARK HOLDS 2022 STAFF EXECUTIVE ADVANCE