LANDMARK VC ADVOCATES BAMBOO TO PLAY TRANSFORMATIVE ROLE
As the world explores agricultural opportunities towards moving from oil to soil economy, the Vice-Chancellor, Landmark University, Professor Adeniyi Olayanju has identified bamboo as a resourceful plant that can assume a transformative role in the socio-economic development of Nigeria. He emphasized this in his presentation at the virtual maiden National Bamboo Stakeholders' Forum of the Association for Bamboo Development in Nigeria in collaboration with Landmark University to commemorate the 2020 World Bamboo Day on Friday, 18th September 2020. The forum with the theme "TOWARDS A NATIONAL ROADMAP FOR BAMBOO INDUSTRY DEVELOPMENT IN NIGERIA" drew attendance from both private and public sectors.
Speaking to the topic "Innovative Bamboo Utilization for Sustainable Cities and Communities: the Landmark Story" entrenched in the Sustainable Development Goals (SDGs), the Vice-Chancellor, who is also a member of the Association's governing council, stated that in spite of the awareness of its resources, bamboo remains untapped natural endowment in Nigeria which if properly harnessed has the potential to be a lead sector for rural industrialization, employment generation and large-scale poverty reduction in Nigeria.
"We believe that bamboo development has the potential to provide the much needed employment for our teeming youth population. Bamboo resources can also provide alternative viable livelihood enterprises for large, medium and small scale entrepreneurs," Professor Olayanju said.
Professor Olayanju identified the major innovative utilization of the bamboo resources in the Landmark University context, highlighting its usefulness in construction, production of furniture and other household items, paper production, textile among others. He added that Landmark constructed a 3.6m x 2.4mx 2.7m high office structure, furniture, teaching models, and even foot-operated sanitizer dispenser machine with bamboo as a proof of the institution's commitment to the production of bamboo.
In furtherance of his advocacy, Professor Olayanju noted that with the abundance of bamboo in different parts of Nigeria, Federal government, through the Forestry Research Institute of Nigeria (FRIN), must formulate workable policies that would increase bamboo production and utilization. He said with such policy and legislation, sustainable production of raw materials for the industries would be put in place. While assuring that a ready market exists for bamboo in the construction industry and agricultural sector locally and globally which he believed would positively improve the rural and urban socioeconomic development, he called on the stakeholders and government to tap into the underutilize gold mine in the country, as a matter of urgency, noting that the conscious cultivation of bamboo is necessary to sustain our economy and develop other businesses of industrial processing of bamboo.
Professor Olayanju stated further that Landmark University with her involvement in bamboo production through her Landmark University Bamboo Initiative Group (L-BIG) is forward-looking in establishing bamboo plantations and working on the bamboo value chain to create jobs and alternative sources of income especially for its immediate communities. He, therefore, called on research institutes, government agencies and ministries, and the National Bamboo stakeholders Forum for collaboration on bamboo production.
Other presentations at the Forum included "Industrial Processing of Bamboo in Nigeria – A Practitioner's Report" by Hon. Sunday Anyang, Federal Commissioner, Revenue Mobilization, Allocation and Fiscal Commission, Abuja, and Chairman, Governing Council of the Association for Bamboo Development of Nigeria; "An Inventory and Assessment of Nigeria's Bamboo Resources" by Dr Robert Ojo of the Forestry Research Institute of Nigeria (FRIN) and Assistant Secretary of the Association for Bamboo Development of Nigeria; and "Opportunities for Investment in Bamboo Value Chain in Nigeria" by Obong Celestine Etouwem, Former DG Akwa Ibom Investment Corporation (AKICORP).
Present at the virtual event were the representative of the Hon. Commissioner, Ministry of Agriculture, Akwa Ibom State, Dr John Irabor, the Permanent Secretary, Ministry of Agriculture, Akwa Ibom State; Dr Ogunwumi Abimbola of the Raw Materials Research and Development Council (RMRDC) among others.
Today @ LMU
Omu-Aran, NGclear sky 20.37oC
See More >>
Subscribe to our Newsletter
Get the latest news and updates by signing up to our daily newsletter.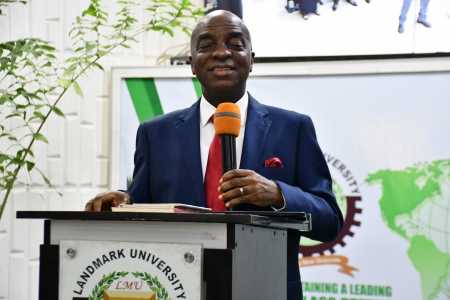 Story of the week
LANDMARK HOLDS 2022 STAFF EXECUTIVE ADVANCE