ATTAINING NEW FRONTIERS, REBRANDING AND REINVENTING LANDMARK UNIVERSITY
On Friday 15th of January 2016, Management of Landmark University led by the Vice Chancellor, Professor Aize Obayan, organized a seminar for all faculty and staff on the Operational Rebranding of the Institution. Delivering the lecture at the University Multipurpose Hall, the Vice-Chancellor urged faculty and staff to be in touch always with the vision of the University, which is "to be a leading world class university by spearheading the agrarian revolution in Africa continent through exploring the hidden treasures in the mother earth thereby restoring the dignity of the black race". She stated that "as a university, rebranding cannot be achieved if the vision, mission and core values of the institution are not properly aligned with", hence the call on all members of the University community to play their designated roles conscientiously. She emphasized the necessity of the University to improve on her customer services, adding that a viable customer service should be characterized by availability, promptness, courtesy and quality of faculty and staff paraded by the institution. She therefore discouraged nonchalant attitude, lame excuses and unethical conducts that may sabotage the rebranding process.
In his own remarks, the Registrar, Dr. Daniel Rotimi described the seminar as a rear opportunity any work force could have to routinely check their performances and improve in any way they are lagging. He reiterated the need for all hands to be on deck. He charged members of faculty and staff to also make maximum use of the ongoing 21 days of spiritual exercise, as declared at the Proprietor base in order to experience the quantum leaps, as prophesied by the Chancellor, Dr. David Oyedepo, saying "Landmark University is born out of the bowel of this commission therefore we should all be part of this to have destinies achievable". The seminar also featured a session of question and answer and the launch of MUNCHES CUBE, a new product by the Landmark University Development Ventures (LMDV).
Today @ LMU
Omu-Aran, NGclear sky 19.71oC
See More >>
Subscribe to our Newsletter
Get the latest news and updates by signing up to our daily newsletter.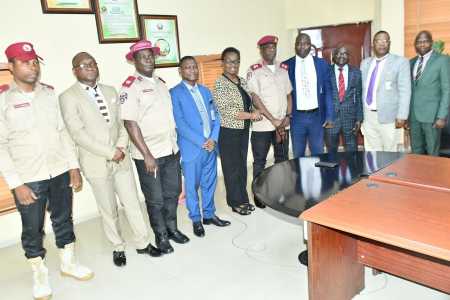 Story of the week
LANDMARK UNIVERSITY RECEIVES NEW FRSC KWARA SECTOR COMMANDER