ASAN NIAS LOC SEEKS LANDMARK UNIVERSITY PARTNERSHIP
On Tuesday, 5th June 2018, members of the Local Organizing Committee (LOC) of the Animal Science Association of Nigeria (ASAN) and Nigerian Institute of Animal Science (NIAS) paid a courtesy visit to the Management of Landmark University seeking partnership towards holding their 7th Joint Annual Meeting, themed, "Development of Resilient Livestock Industry for National Economic Growth" at the Banquet Hall Government House, GRA, Ilorin, Kwara State come September 9-13, 2018.
Receiving the team from the Department of Animal Production, University of Ilorin, the Vice-Chancellor, Professor Adeniyi Olayanju reiterated the daunting vision of Landmark University to spearhead an agrarian revolution which was birthed via a departure philosophy. He stated further that the major objective of the departure philosophy of the University is to restore the dignity of Blackman. While noting the connectivity of the University to NIAS, he said, "the University holds your association in high esteem because you are very relevant to what we are driving. In agriculture, you have crop and animal production, and Landmark University has experts in these areas. Aside our vibrant commercial farm, we also have a well-equipped teaching and research farm that fully engage in all facets of crop and animal production, as no one can fully practice agriculture without rearing animals, most importantly following the process till it gets to the final consumers." The VC promised Landmark University's support for the Association's annual meeting. He emphasized that the institution upholds the three cardinal objectives of a thriving university, which is teaching, research and community impact.
Speaking on behalf of the team, Professor Moshood Adewale Belewu appreciated the Management for the meeting, noting that Landmark University is a fast-growing university in the area of agriculture. He noted that NIAS is a friend of the University as animal agricultural practitioners and scientists drawn from the industry, government and the academia across Nigeria converged on Landmark University for the 42nd Annual Conference of the Nigerian Society for Animal Production (NSAP) last year March tagged "Landmark 2017". Professor Belewu said that all and sundry who participated in the 2017 conference at Landmark University attested to its success and therefore the Association would need the support of the University, as they get set for the annual meeting.
The information available showed that the ILORIN 2018 ASAN-NIAS 7th Joint Annual Meeting would consider Nigeria's feed production output which has risen according to the latest Global Feed Survey by (2016 ALLTECH). The Nigeria's global ranking for animal feeds has shifted from 51st position out of 130 countries 2015 to 40th position out of 131 countries in 2016. This is attributed to Federal Government Policy on ban of importation of frozen chicken which stimulated increased local production with corresponding higher demand for feeds.
Today @ LMU
Omu-Aran, NGclear sky 18.98oC
See More >>
Subscribe to our Newsletter
Get the latest news and updates by signing up to our daily newsletter.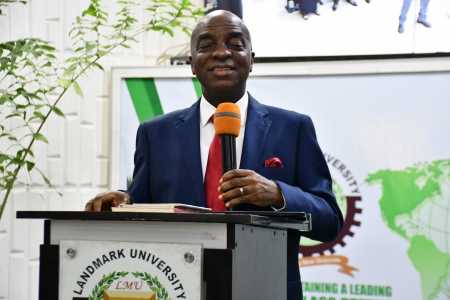 Story of the week
LANDMARK HOLDS 2022 STAFF EXECUTIVE ADVANCE