LANDMARK ANIMAL SCIENCE PROGRAMME MAINTAINS EXCELLENT GRADE
Again, Landmark University Animal Science Programme in the Department of Agricultural Sciences has been highly rated in the professional accreditation conducted by the Institute of Animal Science (NIAS) in May 2021. The position of NIAS was recently conveyed in a letter addressed to the Vice-Chancellor, Professor Adeniyi Olayanju and signed by the Institute's Registrar and CEO, Professor E. A. Iyayi.
According to the report of resource verification/accreditation on the programme, the Institute approved and upheld the accredited status recommended for the Programme with a total score of 80%. The accreditation is for the duration of three (3) academic sessions with effect from 2021/2022 academic session to 2023/2024 academic session.
While relating the good news to the University community, the Vice-Chancellor appreciated the Proprietor base for their commitment towards realising the University's vision of becoming a leading world-class institution. He, therefore, congratulated management, faculty, staff and students of the programme for the milestone.
Today @ LMU
Omu-Aran, NGovercast clouds 21.75oC
See More >>
Subscribe to our Newsletter
Get the latest news and updates by signing up to our daily newsletter.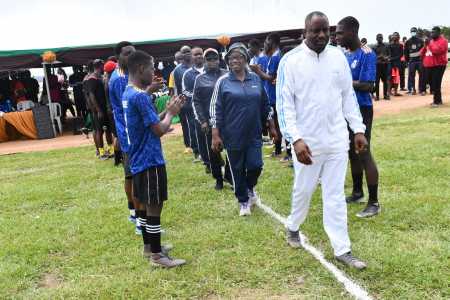 Story of the week
2022 CHANCELLORS CUP KICKS OFF