ENERGY IS KEY TO SUSTENANCE
The Vice-Chancellor, Professor Adeniyi Olayanju has reiterated that from all indications, energy is key to any meaningful and sustainable development. He made this known while receiving at his office a delegation from BIOMASS Nigeria Limited on Friday, 13th September 2019. This meeting was tailored towards the continued quest of the Management to explore possibilities of sustainable and reliable power generation to drive the agrarian revolution mandate of the University.
"If the drive to achieve sustainable development goals is real in the society, the premium is sacrosanct on reliable energy generation and supply. The quest for power supply supportive of uninterrupted developmental and research activities made the University Management consider your presentation if what you intend to bring on board capable of adding value to our University."
Professor Olayanju noted that the capacity of the Organization to facilitate the generation of power from waste, most especially rice husk is quite thrilling for Landmark University, whose quest is agrarian revolution. He added that the University would always seek value proposals that are well thought out, realistic and cost-benefit which will not undermine the University's extant philosophy and Christian ethos. "In this light, we are meeting on this platform to reason together, articulate expectations and count the cost with a view to arriving at a well-informed decision."
He further stated that with commitment to global best practice, solving indigenous challenges for global recognition, fostering collaboration with relevant top-notch organizations and driving steady power supply is irreversible as the University look forward to a cross breading idea session and accessing the technical expertise of BIOMASS Energy Nigeria Limited in boosting power supply capacity of Landmark as an academic institution of higher learning.
In his presentation, the BIOMASS Energy Nigeria Limited's Managing Director, Engr Hussaini Solomon noted that the use of rice husk for power generation is quite fascinating, adding that the availability of reliable energy is a primary requirement for the development of industries. He however, stated that there is no adequate supply of power in Nigeria for such industries, therefore, the need to develop a reliable and adequate industrial household energy supply using locally available renewable energy sources which is of utmost importance.
According to him, rice husk has posed a menace in rice mills due to the fact that there is no current use for agricultural wastes, they are disposed of in uneconomical and environmentally unfriendly ways, as demand for rice husk is relatively low. Due to this, the disposal of rice husk is a serious problem for the millers, many of whom must resort to dumping. Most mills in Nigeria are too small to economically generate electricity from rice husk. However, mills existing in clusters, such as the one to be soon identified do have adequate rice husk generation support economic levels of power generation.
He further noted that based on the quantity of rice husk generated annually in Nigeria rice mill clusters, a 2.0 MW Rice Husk Power Plant that will power 2000 homes is recommended and awaiting full feasibility study. The experience gained in more than 50 similar projects in other parts of the world will be used in the conduct of the feasibility study for Landmark. The Biomass Energy Nigeria Limited hopes to collaborate with Landmark University in making the agro-waste to power generation scheme a reality.
The Vice-Chancellor, Professor Adeniyi Olayanju giving his remarks

The Registrar, Miss Fola Oyinloye welcoming members of the BIOMASS team to Landmark

The Managing Director, Biomass Energy Nigeria Limited, Engr. Hussaini Solomon giving his remarks

The Managing Director, Engr. Hussaini Solomon during his presentation

Cross Session of Members of Management and BIOMASS team

Cross Session of BIOMASS team and Landmark Staff

The Vice-Chancellor, Professor Adeniyi Olayanju presenting University souvenir to the Engr. Hussaini Solomon

The Members of Management and BIOMASS team in a group photograph
Today @ LMU
Omu-Aran, NGfew clouds 27.03oC
See More >>
Subscribe to our Newsletter
Get the latest news and updates by signing up to our daily newsletter.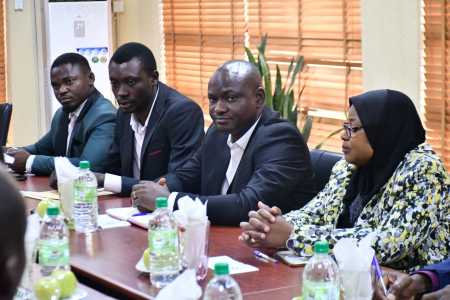 Story of the week
SON KWARA STATE SEEKS COLLABORATION WITH LANDMARK