AGRICULTURE DOYENS POUR ENCOMIUM ON LANDMARK UNIVERSITY
The 60th anniversary celebration of the Association of Deans of Agriculture in Nigerian Universities (ADAN), which was marked with a four-day Agropreneurship Workshop that kicked off on the 10th May, 2016 at Landmark University International Conference Hall, was indicative of commitment the association shared with the agrarian revolution pursuit of the University.
After the day's elaborate opening ceremony that introduced the participants to the discourse of the Workshop which centred on "Agropreneurship: A Veritable Tool for Food Security and Economic Prosperity," the University hosted participants to a plush and elaborate Cocktail where encomiums poured in for Landmark University as a community.
At the Cocktail, the Vice-Chancellor, Professor Aize Obayan expressed delight over Landmark University hosting of the 60th year of ADAN, as a well-recognized entity. "We are indeed grateful to hold the 60th Conference of ADAN; the true value of the Workshop of this nature is what we are able to take away because a challenge has been thrown out to us." She however enjoined participants to embrace agribusiness, which she described as the way forward for Nigeria as a nation. While saluting the bravery of those who came from far distance, she encouraged them to enjoy the most hospitable ambience the University provides.
In her remarks, the President of ADAN, Professor (Mrs) F. M. David-Abraham, appreciated the Deans for their supportive roles towards the success of the 2016 ADAN's Workshop. She further appreciated Landmark University, when she noted that, "We do not have the Dictionary to describe the hospitality of Landmark University. Everywhere is neat and sparkling in fact the environment is waving to God because it shows that creativity is possible."
Speaking earlier, the Registrar, Dr Daniel Rotimi described the Cocktail as an indicative of what ADAN stands for in its entirety, in his words, "Agriculture is what has facilitated the table we are about to partake of, you have worked all day and now is time to unwind."
The representative of the Vice-Chancellor, Federal University of Technology Akure, Professor Ojo also attested to the amazing sight and sound of Landmark University inhabitants when he promised to spend more time to move round the campus to enjoy the amazing atmosphere. Also, Professor Iheme of Micheal Opara University and Dr Haruna unanimously described the University as a 'home away from home', noting that the environment is beautiful and appealing. They further described Faculty, Staff and Students of the University as very accommodating. "People here always smile; this shows how accommodating everyone is. Indeed Landmark University is a model to older generation Universities, as it has what some of them does not have."
Today @ LMU
Omu-Aran, NGovercast clouds 25.45oC
See More >>
Subscribe to our Newsletter
Get the latest news and updates by signing up to our daily newsletter.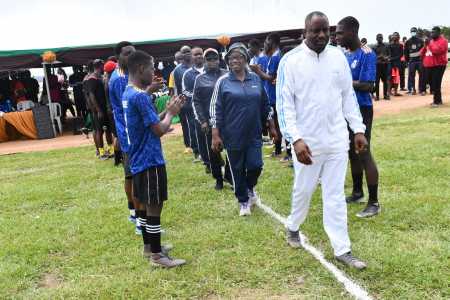 Story of the week
2022 CHANCELLORS CUP KICKS OFF