Agricultural Mechanization Will Restore the Dignity of the Black Man – VC
The Vice-Chancellor, Landmark University, Professor Adeniyi Olayanju said that the dignity of the Black man would be restored only by a major transit from use of manual farm implements to agricultural mechanization for improved productivity. The Vice-Chancellor said this during the courtesy visit of the Management of the National Centre for Agriculture Mechanization (NCAM), Ilorin to his office on Thursday 17th August, 2017. He received the officials with great enthusiasm, noting their contributions to national development through the development of home-grown farm equipment, machinery and the standardization of both the indigenously produced and imported farm machinery technologies. The Vice-Chancellor situated the role of NCAM in actualizing the vision of the University and expressed optimism that the collaboration between the University and NCAM would yield positive results.

The Ag Executive Director, NCAM, Engr. Dr. M. Y.Kasali while congratulating the Vice-Chancellor on his appointment, described him as an enthusiastic and dynamic Engineer who has distinguished himself by attaining a great height early in his profession. The Ag Executive Director expressed hope that the Vice-Chancellor's expertise in the area of agricultural mechanization would not only revolutionize the face of agricultural teaching and practice but also catalyze agricultural production in the University.
While lauding the vision of the University as one of great global value, he also credited the visionary leading of the Chancellor to have situated the University in Kwara State which he said is in the derived guinea savannah zones of Nigeria that allows varieties of cropping. He added that NCAM has always been supportive to the University by providing need-based trainings, especially in the area of home-grown farm equipment and farm machinery, to the engineering students on Industrial Training. Engr Dr. Kasali expressed the pleasure of his Centre to support unrelentingly the University's drive of becoming a leading world-class University by spearheading an agrarian revolution.

The NCAM officials did not leave the amazing Landmark University Campus without visiting both the University's Commercial Farm as well as the Teaching and Research Farm where they witnessed the rich investment of the proprietor base in articulating the commitment towards actualizing the vision of the University – spearheading an agrarian revolution on the continent of Africa.
Management of Landmark University and NCAM officials in a group photograph after the meeting.
The Vice-Chancellor, Professor Adeniyi Olayanju receiving congratulatory card from the Ag Executive Director of NCAM, Engr. Dr. M.Y. Kasali.
Today @ LMU
Omu-Aran, NGbroken clouds 26.12oC
See More >>
Subscribe to our Newsletter
Get the latest news and updates by signing up to our daily newsletter.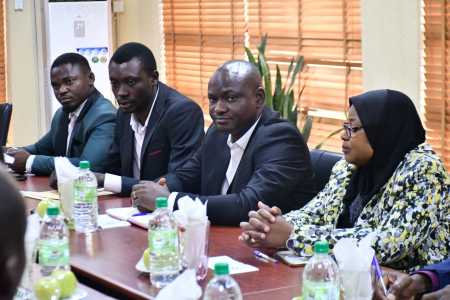 Story of the week
SON KWARA STATE SEEKS COLLABORATION WITH LANDMARK