LANDMARK TRAINS FACULTY AND STAFF
In furtherance of its aim at helping academics to successfully navigate their career path to the desired heights, the 2-day Bootcamp organized by the Department of Physical Sciences triggered, on the Day Two of the programme, the consciousness of Faculty and Staff to building successful academic career.
In her presentation titled, "Work Culture of a Successful World-Class Institution", the Registrar, Landmark University, Miss Fola Oyinloye, tasked faculty and staff to embrace stakeholder's mentality as they professionally discharge their duties in line with world-class standard practices of a University. The Registrar who sensitized participants on the compelling vision of the University of becoming a world-class, noted that behind the work force of an organization is the culture of the organization. According to her, every individual has roles to play in bringing about the fulfillment of the vision of Landmark University, stating that commitment to improving on work culture will not only stand an individual out among their peers but would also build such individual to compete favorably with counterparts globally. She therefore inspired the participants to cultivate an excellent working culture to attain the world-class status.
Speaking further, the Registrar said that location has never been a deterrence to world-class organizations from trailblazing and pacesetting the best practices. While citing examples of successful world-class organizations, she noted that Landmark University has always been in conformity with the best practices and global benchmarks in teaching, research, international outlook, community development and standard practices among others. She added that, as applicable to other world-class institutions, Landmark clearly makes known to her workforce its compelling vision and mission. One of the practices in Landmark University is a sound knowledge and understanding of the goals, vision, mission and the philosophies right from the point of entry of every staff during induction. Miss Oyinloye further intimated the participants on the culture of integrity and truthfulness, diligence, excellence, professionalism, agility, responsibility and innovation as the expected working culture in a world-class institution. Evidently also, Landmark University's seven core values have served as a credo for building working culture.
Also presenting, Professor Jacob Adeniyi of the Department of Physical Sciences, who spoke on the topic "Building Best Practices for Long Lasting Life in Academic" mentored the participants on effective ways to create enduring impact as a teacher and researcher. Professor Adeniyi opined that optimal result is a long lasting academic practice achieved through an unwavering commitment, focus and hard work. He noted that, "a solid foundation is required for long lasting academic practice, therefore recognize your callings, know what you want to do and be focused. Have knowledge of the set guidelines ethics, ideas that represent the most efficient. Build your profession in the right perspective. All Faculty are teachers, never look down on your profession". The Erudite Scholar charged participants to place premium value on their core responsibilities of teaching and research while creating a balance between them. "Don't sacrifice quality at the altar of laziness, read books, never leave your work, be consistent. Build a network, never work in isolation, interact with other people," he added. Professor Adeniyi, therefore, urged the participants to "maintain healthy habits, be a mentor, and do not stop being a mentee."
The Vice-Chancellor, Professor Adeniyi Olayanju who expressed confidence on the deliverables of the 2-day Bootcamp, commended the efforts that went into the successful gathering which he believed would be contributing in no small measure to the advancement of the vision of the University. He reiterated the commitment of University to capacity building for continuous and healthy drive in the 'blended normal'. He, therefore, declared the boot camp closed as he encouraged other Departments to emulate the host department by organizing such purposeful and impactful seminars.
Today @ LMU
Omu-Aran, NGclear sky 20.37oC
See More >>
Subscribe to our Newsletter
Get the latest news and updates by signing up to our daily newsletter.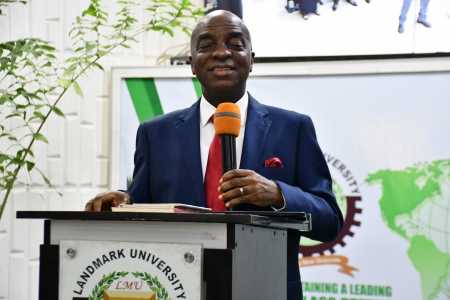 Story of the week
LANDMARK HOLDS 2022 STAFF EXECUTIVE ADVANCE