AGRIC AND BIOSYSTEMS ENGINEERING DEPARTMENT HARPS ON MODERNIZED FOOD PROCESSING
The Department of Agriculture and Biosystems Engineering (ABE) of the College of Engineering on Friday 29th January, 2021 held her first departmental webinar tagged "Recent Trends in Food Physical Processing". The departmental maiden virtual event which also had physical participants in attendance was declared opened by the Vice-Chancellor, Professor Adeniyi Olayanju while the guest speaker Professor Haile Ma, the Director of the International Joint Research Center for Food Physical Processing, Jiangsu University, Zhenjiang, China appositely exposed the participants to the up-to-date forms of food processing.
Addressing the Participants, the Vice-Chancellor Professor Adeniyi Olayanju in his welcome remarks expressed the readiness of Landmark to collaborate with Jiangsu University in the area of Food Physical Processing. Professor Adeniyi Olayanju while appreciating the speaker describes him as an erudite scholar whose research impacts and publications align with Landmark's research agenda. He thereafter enjoined the participants to make the most of the webinar as he also urged the department to immediately work on every information garnered in the course of the webinar.
Professor Haile Ma, in his presentation defined Food physical processing as a kind of new technology that uses modern acoustics, optics, electricity, magnetism, mechanics and other physical methods to improve the traditional food processing technology. Professor Haile Ma noted that although food processing has an interdisciplinary crossing in food chemistry, food microbiology and food physical processing, there are some challenges faced by the traditional food industry based on chemistry and biology. According to him, such challenges include food safety, processing efficiency, product quality, energy consumption and intellectual manufacturing.
Professor Haile Ma revealed that a large number of research data proved that the application of physical methods does not produce many unexpected effects, showing a broad application prospect. He thereafter identified sonochemical effect, food infra-red processing technology, magnetic field assisted fermentation technology and physical mutagenesis of microbial strains as the different methods of food physical processes. The food infrared processing technology include but not limited to infrared blanching of vegetables, infrared peeling of fruits and vegetables, infrared flavor producing of vegetables, infrared barbecue of food and infrared drying for industrial product among others. The lecture which exposed the participants to food physical process also intimate them on the health, environmental and mechanical edge and advantages it has on the already known traditional processes.
In his closing remarks, the Vice-Chancellor, Professor Adeniyi Olayanju appreciated the Speaker Professor Ma for the lecture by bringing up the current trend in food processing. "While Food Chemistry and Food Biology are popular Field of Studies, not everyone knows Food Physics. Professor has taken us through all the process and the latest equipment, we will say this is just the beginning of an impactful collaboration", he stated.
The Head of Department Agric and Biosystems Engineering, Dr. John Ojediran in his remarks urged the students to remain focus noting that there are so many opportunities out for them and with the presentation they should be more than ever interested in their field of study.
Professor Haile Ma, is a Professor of Food Science and Engineering with over 500 Scopus indexed journal publications and has supervised more than seventy research projects. He is currently the Dean School of Agriculture and Engineering and the Director of the International Joint Research Center for Food Physical Processing, Jiangsu University, Zhenjiang, China.
The Vice-Chancellor, Professor Adeniyi Olayanju delivering his opening remarks at the webinar

The Dean College of Engineering, Professor Makanjuola Oki at the Webinar welcoming all participants.

Professor Haile Ma, (first picture) during his presentation while the HOD ABE Dr. John Ojediran (2nd left) listens with other participants.

DLUCRID Professor Babatunde Adebesin and DCOE Professor Makanjuola Oki leading other physical participants at the Webinar.
Today @ LMU
Omu-Aran, NGovercast clouds 28.27oC
See More >>
Subscribe to our Newsletter
Get the latest news and updates by signing up to our daily newsletter.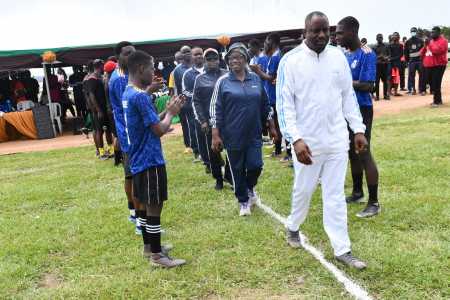 Story of the week
2022 CHANCELLORS CUP KICKS OFF