VC CHARGES ENGINEERING GRADUATES TO BUILD SOLID CAREER PATH
On Tuesday, July 10 2018, a total of 148 Engineering graduates from the College of Science and Engineering Landmark University were inducted into the Nigerian Society of Engineers, (NSE) as graduate members.
The fourth edition of the programme was hosted by the newly inaugurated Nigerian Society of Engineers, Omu-Aran Branch in fulfillment of the students' professional body membership obligation which does not only give them edge among their contemporaries but also serve as career base for them.
Addressing the gathering, the Vice-Chancellor, Professor Adeniyi Olayanju, who congratulated the students for being part of the life-changing privilege Landmark University offers, urged them to be good ambassadors as they are about to be released into the world of works. As Engineers, the VC said they must live up to expectation by making their Alma Mater and NSE proud. He added that through God and hard work the sky would be their starting point as the world awaits their diverse innovations.
Being solution providers, Professor Olayanju enthused them to avail themselves of the opportunity inherent in the programme. Reiterating the importance of the induction, he said the feedback received from the previous pathfinders substantiates its worth going by the reality experienced in the society.
The Vice-Chancellor, Crown Hill University, Professor A.J. Olorunmaiye in his presentation titled, "Potentials, Opportunity and Possibilities in the Engineering Profession", said as Engineers, they have potentials to solve all problems which require engineering solutions in the society. The Crown Hill's VC added that opportunities abound for hardworking Engineers who observe the ethics of the profession.
Professor Olorunmaiye, however, concluded that "with the provision of a better enabling environment soon in Nigeria, after corruption is greatly reduced to enhance engineering practice, our economy will grow and you can realize your full potential as an engineer".
The 2018 edition of the Landmark University's NSE induction featured a session of Award presentation to the Vice-Chancellors, the Chairman NSE, Omu – Aran Branch, Professor F.A. Ibikunle, the Dean, College of Science and Engineering, Dr. John Ojediran, the chairman and Vice-Chairperson Dr. Olawale Olamide as well as best graduating students in each department.
The highpoint of the event was the oath taking session which formalized the induction of the 148 graduating students of Landmark University. Some of the students who spoke were full of excitement, noting the significance of the event to launching their career in Engineering.
Today @ LMU
Omu-Aran, NGclear sky 20.37oC
See More >>
Subscribe to our Newsletter
Get the latest news and updates by signing up to our daily newsletter.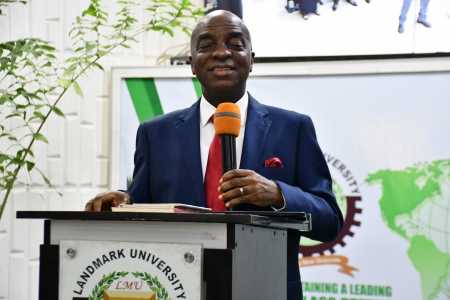 Story of the week
LANDMARK HOLDS 2022 STAFF EXECUTIVE ADVANCE