LMU TO PARTNER DSM NUTRIVITAS NIGERIA FOR IMPROVED FARM OUTPUTS
On 6th July, 2018, Landmark University once again reinstated vigorously her effort to the pursuit of her vision as members of Management received team from DSM Nutrivitas Nigeria for collaboration towards improved farm outputs. While receiving the team, the Vice-Chancellor, Professor Adeniyi Olayanju noted that the Institution is rooted firmly on departure philosophy of doing things differently and in a unique way. "We cannot be doing things the same way and be expecting different results" he added. He further stated that the coming of DSM Nutrivitas Nigeria would add value to both the Teaching and Research Farm with land space of 15 hectares and the Commercial Farms of over 500 hectares of land which are well manned by a crop of dedicated Staff towards validating the huge investment of the Proprietor base on the University.
In his response, the DSM Account Manager Nigeria & West Africa, Dr. Anthony Agbaso stated that DSM Nutrivitas Products is a world leading supplier of vitamins, carotenoids and other nutritional solutions with three market-facing entities: Animal Nutrition & Health, Human Nutrition & Health and Personal Care & Aroma Ingredients. He noted also that there has been massive improvement in Agribusiness in Nigeria and Landmark University is a leading example in this direction, as Agriculture guarantees food production which has effect on security. "Nigeria has close to 200 million population and we need to harness our potentials to be able to meet the needs of this ever growing population. Our organization provides innovative solutions and materials towards ensuring improved agricultural productivity and that is we are seeking collaboration with this University," he explained.
The company, DSM, serves the global feed industry with innovative and sustainable nutritional solutions. A pioneer since the earliest days of feed additives, DSM draw on the latest science to provide a unique portfolio that runs from vitamins through carotenoids to cutting-edge eubiotics and feed enzymes. With a growing population and growing incomes driving demand for animal protein, their products help producers of animal feed and meat, including farmers, raise animals more efficiently and sustainably. The organization is also unique in animal production, as they provide the highest quality ingredients and additives for animal feeds that produce healthier animals for better meat and eggs.

Today @ LMU
Omu-Aran, NGclear sky 20.37oC
See More >>
Subscribe to our Newsletter
Get the latest news and updates by signing up to our daily newsletter.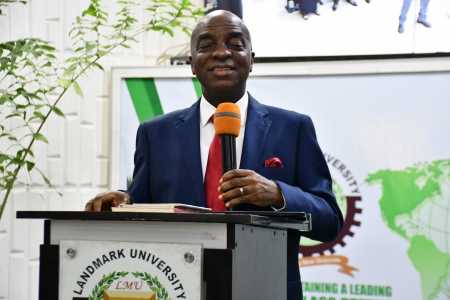 Story of the week
LANDMARK HOLDS 2022 STAFF EXECUTIVE ADVANCE