LANDMARK UNIVERSITY'S SECOND MENTORING CHAT SERIES WITH ENGR. PROFESSOR ZINASH OSUNDE
On Thursday 5th of May, 2016, the University held her second edition of the Mentoring Chat Series, a monthly capacity building programme aimed at encouraging, impacting and nurturing faculty between the rank of Assistant Lecturer and Lecturer I in the institution.
The Vice-Chancellor, Professor Aize Obayan who admitted that a quiet revolution has started in the University, admonished members of Faculty to maximize the output of the programme in order to reproduce the virtues emitted by the seasoned scholars. She likened the series to a Flamboyant Tree, whose seeds multiply ceaselessly, noting that the series was put in place as building blocks for higher opportunities available to encourage younger academics to get involved in activities that would prepare them for the future. Professor Obayan further charged that "a lot can be adduced to hard work, wherever you are, you can make yourself relevant, known and be fulfilled." The Vice-Chancellor described the speaker, Professor Zinash Delebo Osunde, as an academic per excellence whose wealth of experience could encourage other Faculty and staff to take up leadership roles and scale daunting challenges that they might be facing. She however described her as a humble and hardworking woman.
Engr. Professor Zinash Delebo Osunde during her presentation shared with the audience her personal experiences which she believed would be a source of encouragement to the target audience. She described her challenges as the determining factor to becoming who she is today; from growing up in a small village to being able to stand out among her siblings, marriage to Nigerian, relocation to Nigeria, her challenges being an half cast in Nigeria and becoming an academic among others. All these she said have brought her far with the support of God and her husband, while she called on participants to strive to make positive mark wherever they find themselves. "Making impact on younger ones is so important to me. I have many children I have assisted through school."
Later in an interview, Engr. Professor Osunde said her passion for agriculture was influenced by her parents and the Ethiopian society. She therefore advised government to be sincere in driving viable policies that would enhance mechanized farming. She posited that "the nation should be serious about mechanizing agriculture. We should stop importing machineries from outside. We should patronize our designers and small-scale producers to do processing equipment for the farmers like planter, harvester … and for women; you know generally women are food producers, so I will advise them to go into processing to add value to their production thereby empowering them to generate income."
Today @ LMU
Omu-Aran, NGclear sky 19.71oC
See More >>
Subscribe to our Newsletter
Get the latest news and updates by signing up to our daily newsletter.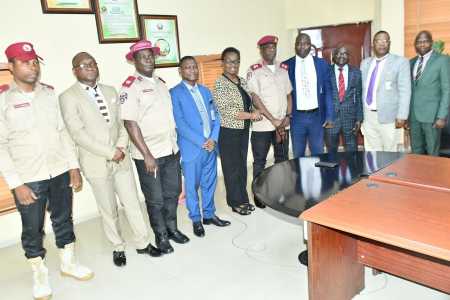 Story of the week
LANDMARK UNIVERSITY RECEIVES NEW FRSC KWARA SECTOR COMMANDER