LANDMARK RECEIVES AL HIKMAH UNIVERSITY TO EXPLORE OPPORTUNITIES FOR COLLABORATION
On Tuesday, 25th July 2023, Landmark University's management, headed by Vice-Chancellor Professor Charity Aremu, warmly welcomed the delegation from Al-Hikmah University, Ilorin, led by Vice-Chancellor Professor Noah Yusuf. The purpose of their visit was to explore opportunities for collaboration and partnership, indicating a significant milestone in the journey of both institutions. The meeting exemplified the spirit of unity, innovation, and progress that resonates with the visions of both universities.
Professor Aremu, in her welcome speech, expressed her joy at receiving Professor Yusuf and his team, recognizing the timeliness and strategic value of the visit in advancing the goals of KU8, the Consortium of Universities in Kwara State whose collective mission is to establish a robust institution in the region that fosters knowledge, creativity, and prepares students for an ever-changing world. During the discussions, the universities assessed their distinct and shared academic cultures, particularly in teaching, research, and community impact, emphasizing the importance of a strong partnership to create a more profound social influence.
Both institutions agreed that through collaboration and mutual support, they could achieve even greater things in alignment with their shared mission. This partnership not only benefits the universities but also the larger society. Professor Aremu highlighted the significance of inter-university collaboration in research publications within prestigious databases like Scopus and subscribing to global resources such as Elsevier, which would enhance their global relevance. She noted that this has contributed to Landmark University's attainment of world-class status while emphasizing the role of the University's proprietors led by the Chancellor, Dr David Oyedepo in financing the drive.
In response, Professor Yusuf, the Vice-Chancellor of Al-Hikmah University, commended Landmark University for its impressive achievements, particularly in research, education, and community engagement, with a focus on agriculture. He mentioned that their visit was motivated by their plans to develop their College of Agriculture into a full-fledged university of agriculture in the near future. Professor Yusuf conveyed his university's commitment to excellence and its progress across various fields. He expressed eagerness to leverage their strengths and resources, with the support of their proprietor, to collaborate with Landmark University, ultimately attaining an enviable status in the global education landscape.
Following the fruitful meeting, the Al-Hikmah Vice-Chancellor and his team were taken on a tour of Landmark University's facilities, including the Teaching and Research Farm, the Centre for Learning Resources, and the Centre for Entrepreneurial Studies. The visiting team comprised officials such as the Al-Hikmah's Registrar, Dr Kazeem Oladimeji; Librarian, Mr Isiaka Alao; Director of Academic Planning, Dr Sikiru Nurudeen; Dean of Postgraduate School, Prof. A.O.Y. Raji; Ag. Dean of Agric, Dr K.S. Olorunnisola; Director of Centre for Entrepreneur and Vocational Studies, Prof. I. A. Okunlola; Director of Advancement Centre, Dr I.I. Yahaya; Director of ICT, Mr S. B. Ogidan; as well as esteemed faculty members including Dr Adeyemi (Agronomy Dept.); and Mr Ajala (Crop Protection).
The Management of Landmark and Al-Hikmah Universities charting the course for collaboration
The Vice-Chancellor of Landmark University, Professor Charity Aremu speaking to the guests from Al-Hikmah University during their visit.
The Vice-Chancellor of Al-Hikmah University, Professor Noah Yusuf speaking about his university's strides
Landmark University Deputy Vice-Chancellor, Professor John Ojediran making his remark during the meeting with Al-Hikmah University team
Landmark University Registrar, Mr Olushola Oyinloye welcoming the Al-Hikmah University team to Landmark University
The Al-Hikmah Unversity Registrar, Dr Kazeem Oladimeji giving his remark during their visit to Landmark University.
Members of the Al-Hikmah University team during the meeting
The Management of Landmark and Al-Hikmah Universities in a group photograph after their meeting
The team at the Landmark University's Hydroponics Centre at the Teaching and Research Farm
The Vice-Chancellor of Al-Hikmah at the Landmark University Centre for Entrepreneurial Development Studies
Today @ LMU
Omu-Aran, NGmoderate rain 20.63oC
See More >>
Subscribe to our Newsletter
Get the latest news and updates by signing up to our daily newsletter.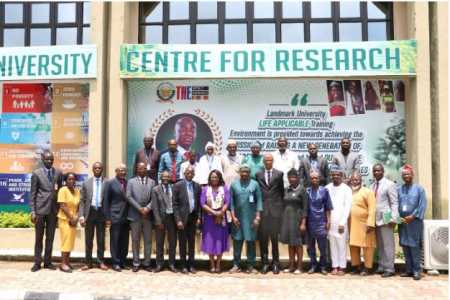 Story of the week
LANDMARK RECEIVES AL HIKMAH UNIVERSITY TO EXPLORE OPPORTUNITIES FOR COLLABORATION