LANDMARK PREPARES AHEAD 2023 REGIONAL GLOBAL HULT PRIZE CHALLENGE
On Saturday 21st January 2023, Landmark University under the aegis of the Student Development arm of the Students Affairs held the final On-campus Hult Prize challenge in preparation for the 2023 regional and global HULT prize challenge. Hult Prize, which is the world largest student's entrepreneurship competition in partnership with the United Nations, is aimed at challenging students to solve a pressing social issue around topics such as food security, water access, energy and education. Landmark University has over the years featured in the Hult Prize as a participant and prize winner of different categories.
According to the Head of Student Development Unit, Mr Daniel Emmanuel, Landmark University in preparation for the on-campus final had an onboarding and orientation programme held for the teams, alongside 3 preliminary pitch sessions and a 14-day virtual masterclass focusing on this year's theme "Redefining Fashion". Mr. Emmanuel noted that some of the criteria reeled out by Hult for grading ideas include, a balanced compelled and interactive pitch, relevant, disruptive and aligned Idea, a committed, diverse and credible team, and measurable impact which is SDG-aligned were all applied in grading the six teams who participated at the finals, namely Medic, Ecowear, Luxe Innovator, Rejuvenate, Ecomade, and Carbon.
In all, six teams competed at the 2023 final On-campus Hult Prize challenge at Landmark University where team Rejuvenate's project on the production of alternatives to dyes to be sources from natural materials as well as making available patch textile materials/clothing to the Gen Z who are investing in trendy fashion became the 2nd runner up. The first runner-up prize goes to the Ecowear team who presented an E-commerce clothing store aimed at promoting textile materials/clothing of companies whose products are eco-friendly while team Ecomade's project on Recycling plastic and other waste in water, collaborating with other organizations on the same for use in textile/clothing won the first position with a total of 47.74 points.
Subsequently, the three runner-up teams will be at the regional stage in a few months while the project will be exhaustively refined. The three runner-ups were presented with certificates at the end of the competition.
Team Ecomade (Winner) during their presentation
The winning team, ECOMADE with the On-campus Hult Prize Directors (Middle).
Team Ecowear (1st Runner Up) with the On-Campus Hult Team Directors (Middle).
Team Rejuvenate (2nd Runner Up) making their presentation
Team Rejuvenate with the Student Development Officer and Campus Directors
Team Luxe Innovators with the Campus Directors (Middle).
Team Medic with Panellist
The panellists painstakingly assessing the presentations of the teams
Team Ecomade – 1st Place Winner of the On-Campus Hult Prize Finals
A group photograph of all the 6 teams.
Today @ LMU
Omu-Aran, NGovercast clouds 23.97oC
See More >>
Subscribe to our Newsletter
Get the latest news and updates by signing up to our daily newsletter.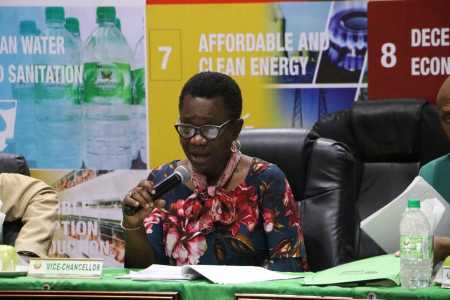 Story of the week
GREAT EXPECTATION AS LANDMARK SET TO FLAG OFF INTERNATIONAL VISITING VOLUNTEER SCHOLARS PROGRAMME