LANDMARK REITERATES COMMITMENT TO DRIVING SANCTITY ON EXAMINATION RESULT PROCESSING
Landmark University has again reiterated her commitment to quality assurance fostering sanctity in examination result processing. On Thursday 22nd July 2021, Faculty and Staff of Landmark University, Bells University, Olabisi Onabanjo University and Lagos State Polytechnic participated online and onsite at the LUCRID webinar series with the theme "Sanctity of Examination Result Processing: A Key Component in Quality Assurance".
The 9th edition of the webinar featured the inauguration of the Landmark Central Examinations Results Vetting Committee (REVECOM) while the institution's key players in examination result processing from the department, college, committee to senate level were in attendance. The 12-man committee is saddled with the responsibility of preparing an aggregated report of their observations on each semester's examination results in the Colleges to Senate Business Committee as well as making recommendations on examinations result matters to Management.
The 9th webinar Guest Speaker, Professor O.M.O Idowu, member, senate committee on examination result, Federal University of Agriculture, Abeokuta, is known for his over two-decade experience in result vetting and processing. In his presentation, Professor Idowu noted that the integrity of degrees awarded in universities is what makes an academia, therefore the process should not be compromised. According to him, confidence, transparency and accountability must be the guiding words in result processing responsibility.
Professor Idowu insisted that "Embellishment of Quality Control in Assessment and Grading System is a high priority for Landmark University to continue to excel. Result compilation, computation and presentation process that is error-free is a must for world class University", he thereafter identified sanctions, objectivity, quality assurance, reliability, accuracy, integrity and timeliness as principles of students result processing. Others are effectiveness of the key players before, during and after examination and feedback.
Professor Idowu who shared from his wealth of experience in result vetting, urged the newly inaugurated committee, REVECOM to be tenacious in meeting the demands of the assignment such as due diligence, understanding result processing architecture, computer literacy and mastering of student's academic records among others.
Speaking earlier in his address, the Vice-Chancellor, Professor Adeniyi Olayanju noted that the 9th LUCRID Webinar Series courtesy of the Directorate of Academic Planning is in collaboration with the School of Postgraduate Studies, Centre for System and Information Services and SDG4 Research Group. Professor Olayanju who stated that the theme of the webinar is apt and in alignment with the Landmark Strategic Goals LSG2, 3, 8, 11 and 12 added that organizing such webinar is strategic and highly needed for quality control as an institution.
Speaking on the state of examination result processing in Landmark University, Professor Olayanju opined that "to the best of my knowledge, result processing system in our university is built on integrity, sacrosanctity and purposefulness to produce not only discipline mind that is versed in subject matter knowledge, but also to revive creating, synthesizing, responsible and ethical mind that will produce in abundance the capable and God-fearing leaders that have been elusive to us in Nigeria". He thereafter congratulates the Guest Speaker, the organizers and the newly inaugurated committee members for such a purposeful workshop with a lifelong impact.
Much earlier in her remark, the Registrar, Miss Fola Oyinloye, on behalf of the University Management, welcomed all participants to the webinar and appreciated the organizers for coming up with such a thought-provoking theme, which is apt to the University's drive for excellence. She urged the participants to glean from the webinar ideas that would accelerate the attainment of the vision of the University.
In his own submission, Director Academic Planning, Professor O. S Adeyemi admitted that going by the National Universities Commission's standard on result processing, the webinar is apt and timely, noting that the University's products exist on some standards, inputs and outputs. According to him, on examination result processes, Landmark keeps improving on its standards for excellent deliveries in line with global best practices.
Also speaking, Director Center for Systems Information and Services (DCSIS) Mr. Opeyemi Matiluko corroborated the Guest Speaker's submission on integrity and due diligence when processing examination results. According to him, Patience and confidentiality are also some of the responsibilities of a care taker of students' results. He thereafter charged Heads of Departments and their level advisers to run with the information given.
The Vice-Chancellor, Professor Adeniyi Olayanju while delivering his remarks.

The Registrar, Miss Fola Oyinloye while giving her welcome address.

Mr. Olakunle Ajiboye reading the citation of the Guest Speaker, Professor O.M.O Idowu.

The Guest Speaker, Professor O.M.O Idowu while presenting at the 9th LUCRID webinar

The Chairman of the newly inaugurated committee, Professor O.O Osemwegie giving his acceptance speech.

Registrar, Miss Fola Oyinloye (Left) and VC, Professor Adeniyi Olayanju (Right)

Cross Section of Participants at the 9th LUCRID Webinar

DCSIS, Mr. Opeyemi Matiluko giving his remarks at the webinar.

The 9th LUCRID Webinar

DSPS, Professor Charity Aremu appraising the presentation at the 9th LUCRID webinar

VC Bells University Professor J. Ojediran giving his goodwill message as one of the virtual participants.

Registrar, Miss Fola Oyinloye (Left), VC, Professor Adeniyi Olayanju (Middle) and the Guest Spaeker, Professor O.M.O Idowu (Right)

Newly Inaugurated members of the REVECOM

9th LUCRID Webinar Group Photograph with some of the participants.
Today @ LMU
Omu-Aran, NGbroken clouds 25.33oC
See More >>
Subscribe to our Newsletter
Get the latest news and updates by signing up to our daily newsletter.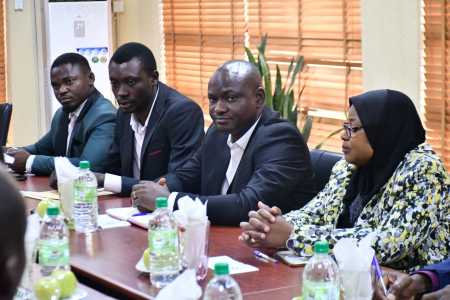 Story of the week
SON KWARA STATE SEEKS COLLABORATION WITH LANDMARK