4TH CHANCELLOR'S CUP KICKS OFF IN STYLE
Landmark University commenced the (4) fourth edition of the Chancellor's cup on Saturday 2nd April 2016 with football male and female teams, basketball and volley ball games. The Vice Chancellor, Professor Aize Obayan performing the kick off described the event as needful for the entire community due to its health benefits as she reiterated the importance of bodily exercise in enhancing activeness, alertness and promptness mentally. Professor Obayan, who noted the significance of abiding with the rules and regulations of each game especially football, said it promotes team spirit, determination and discipline while she admonished all kings and Queens to utilize the sporting events in enhancing their mental and physical health. She further stated that in a bid to enhance the sporting activities of the students a befitting and standard Landmark University stadium would be constructed in earnest.
Also speaking, the Registrar, Dr. Daniel Rotimi urged the participants to abide with the rules and regulations of the game to ensure excellence and best result. ''The bodily exercise is to stair you up to produce maximally, mentally and academically'', he charged the students. He also advised them to channel their energy towards positive exercise that will enhance their spiritual prowess, and in turn make them shun social vices.
The fourth edition of the Chancellor cup kicks off with the first football match between the Departments of Sociology and Economics; the one hour game ended (1)one – (0)nil with Economics leading the game as the first goal of the tournament was scored by Pam Dachomo at the thirty second minute. Other fixtures for the weekend saw Animal Science Department beat Chemical Engineering (4)four to (1)one, Soil Science took Mechanical Engineering in a goalless match while the match between Civil Engineering and Agricultural Engineering ended (3)three- (0)zero in favour of Civil Engineering.
This year's tournament is expected to feature the Vice Chancellor's cup, a female five aside football match, sponsored and supported by the Vice Chancellor Professor Aize Obayan, the gesture she said is aimed at encouraging young Queens in sporting activities.
Today @ LMU
Omu-Aran, NGlight rain 21.58oC
See More >>
Subscribe to our Newsletter
Get the latest news and updates by signing up to our daily newsletter.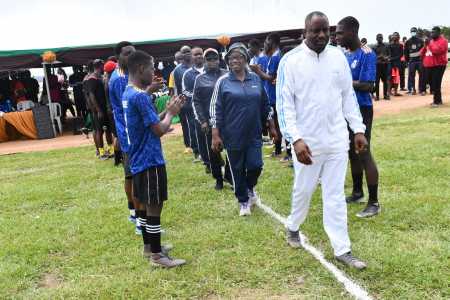 Story of the week
2022 CHANCELLORS CUP KICKS OFF