LANDMARK INAUGURATES COMMITTEES
On Friday, 15th January 2021, the Management of Landmark University inaugurated working committees to support their visionary drive for the 2020/2021 academic session. These committees include amongst others Strategic Planning, Accreditation, Student Disciplinary, Staff Impropriety, Central Purchasing, Equipment, and Publication.
Inaugurating the committees at the University's International Conference Centre, the Vice-Chancellor, Professor Adeniyi Olayanju, reiterated that no university grows without a people on the go. He alluded to the biblical account of Moses' hand being lifted for the continuous victory of the Israelites, the act of which is worthy of emulation. The Vice-Chancellor noted that the visionary drive must be a collective enterprise because the management cannot drive it alone. He, therefore, called for the unalloyed support of the committees and the university community alike, noting that everyone has a role in the success of the University's visionary drive. 'That you are not called into any of the committees does not mean you don't have a contribution to make towards the University's visionary drive. Every one of us cannot be here at the same time,' he said. Charging the committees, Professor Olayanju reminded them that the opportunity of service in the Landmark University context is a platform to be blessed. He, therefore, congratulated the Chairpersons of the committees and their respective members on their nomination and inauguration.
Earlier, the Registrar, Miss Fola Oyinloye, had explained through the story of Jethro and his son-in-law, Moses, that the University committee system was to foster effective and efficient management in the University where leadership is represented at all levels.
Today @ LMU
Omu-Aran, NGlight rain 29.25oC
See More >>
Subscribe to our Newsletter
Get the latest news and updates by signing up to our daily newsletter.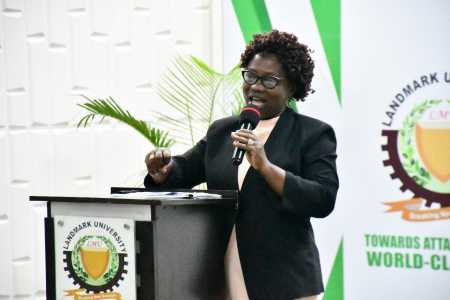 Story of the week
ACTING VC UNVEILS URGENT ACTION PLANS TOWARDS VISION REALIZATION