ACTING VC UNVEILS URGENT ACTION PLANS TOWARDS VISION REALIZATION
The Acting Vice-Chancellor, Landmark University, Professor Charity Aremu, has mentioned strategic influence, networking, production for impact and moving research from shelf to product as some of the action plans billed for passionate pursuit starting from the 2021/2022 academic session. She unveiled these action plans at the 2021/2022 Academic Session Opening Assembly for Faculty and Staff of the University on Friday, 16th October 2021 at the International Conference Centre. Professor Aremu noted that the action plans are to leverage the provisions of the University's vision, core values, licence and brief, policies, strategic plans and the United Nations' Sustainable Development Goals (SDGs) in their focus. She, therefore, called on the academic community for unflinching support towards consolidating the works of her predecessors thereby adding value to the vision of the University. As her maiden appearance at the University gathering since her assumption of office as the Acting Vice-Chancellor, Professor Aremu appreciated God for the privilege of qualification, and blessedness of service. She expressed appreciation to the Chancellor, Dr David Oyedepo for yielding the call which birthed the platform for her service. Professor Aremu also thanked the Pro-Chancellor, Pastor Mrs Faith Oyedepo who has demonstrated her support for the advancement of the University in all ways.
The Registrar, Miss Fola Oyinloye had earlier announced that returning students would be resuming the campus starting from Saturday 16th October 2021. She revealed that delegated staff of the University would be at the gate to receive them. While reiterating the University's strict compliance and enforcement of the NUC rule of 75% student class attendance before he or she can be qualified to sit for examination, the Registrar announced that lectures for the 2021/2022 Academic session would commence on Monday, October 18, 2021, with class attendance capturing. She implored concerned faculty and staff to drive the policy faithfully.
Charging faculty and staff on the consciousness and maximizing the presence of God for all-round success both as individuals and as an academic community, the Chaplain, Pastor Oluwatimilehin Omotunbi, admonished faculty and staff to always see God's presence. Sermonizing from Psalms 114, he established the benefits of God's presence and gave the requirements to retain His presence which are spirituality, thanksgiving, joyfulness of heart and rejoicing always.
The University Secretary, Pastor Frederick Aghahuwa who graced the event closed the session with showers of blessing on the faculty, staff, students and the university at large for unprecedented landmark accomplishments and a successful academic session.
Today @ LMU
Omu-Aran, NGclear sky 20.37oC
See More >>
Subscribe to our Newsletter
Get the latest news and updates by signing up to our daily newsletter.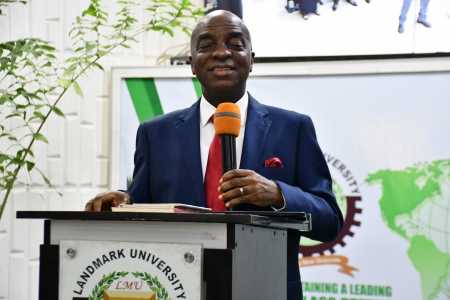 Story of the week
LANDMARK HOLDS 2022 STAFF EXECUTIVE ADVANCE