19 YEAR OLD 300 LEVEL ECONOMICS STUDENT OF LANDMARK UNIVERSITY BECOMES A CHARTERED ACCOUNTANT
The Landmark Professional Accountancy Centre (L-PAC) has once again celebrated an outstanding accomplishment by Queen Ashaolu Ayanfeoluwa, a 19-year-old student in her third year in the Department of Economics at Landmark University. She has successfully passed the qualifying examination of the prestigious Institute of Chartered Accountants of Nigeria (ICAN). Queen Ayanfeoluwa, like many others, embarked on her ICAN journey during her first year and remarkably cleared each stage of the exams in one attempt. It is worth noting that she has consistently maintained a first-class result in economics.
The good news of Queen Ayanfeoluwa's enviable milestone was communicated to the university community at the chapel service where she was invited to the podium amidst encomium and joyfully congratulated by the Vice-Chancellor, Professor Charity Aremu, who charged other students to follow suit in exemplifying excellence by maximizing the topnotch facilities and opportunities available at Landmark University towards validating its mission of raising a new generation of leaders. Responsing to the glowing accomplishment, Queen Ayanfeoluwa returned glory to God, and appreciated the University Management, her parents, lecturers, and friends for the composite helps she enjoyed from them.
It is heartwarming to note that Queen Ayanfeoluwa's exceptional performance extends beyond ICAN. Recently, she secured an impressive fifth place out of 256 participants in the National Annual Tax Quiz 2023 organized by the Chartered Institute of Taxation of Nigeria (CITN).
This accomplishment follows the success of Miss Adeoye Grace, a 400-level Accounting student who passed the ICAN qualifying examination at the age of 19 in November 2020. Currently, several of our undergraduate students are in the final stage (Professional Level) of the ICAN qualifying examination, while many others are at different stages of completion.
Dr Ben-Caleb Egbide, the Coordinator of the Centre and Dean of the College of Business and Social Sciences affirms that the achievements of these students validate the vision of L-PAC as the professional arm of the Department of Accounting and Finance, as well as other related programs such as Economics and Business Administration at Landmark University.
L-PAC integrates rigorous professional training into the regular academic program, emphasizing the importance of early engagement in the ICAN journey for Accounting students, ideally starting from their first year. This approach enables them to complete all examination levels within a remarkable timeframe, earning three (3) certificates within four (4) years of their studentship.
Queen Ayanfeoluwa Ashaolu speaking on her ICAN journey experience at the Tuesday Chapel Service
The Vice-Chancellor, Professor Charity Aremu expressed joy and congratulated Queen Ayanfeoluwa Ashaolu on her ICAN qualifying feat at the Tuesday Chapel Service
The Vice-Chancellor, Professor Charity Aremu together with other members of management congratulated Queen Ayanfeoluwa Ashaolu on her ICAN qualifying feat at the Tuesday Chapel Service
Today @ LMU
Omu-Aran, NGmoderate rain 20.8oC
See More >>
Subscribe to our Newsletter
Get the latest news and updates by signing up to our daily newsletter.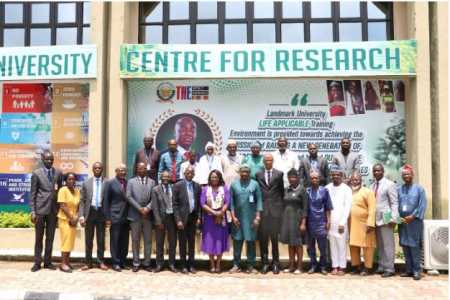 Story of the week
LANDMARK RECEIVES AL HIKMAH UNIVERSITY TO EXPLORE OPPORTUNITIES FOR COLLABORATION