WATER SOLUTION MUST BE DEMAND DRIVEN
The Vice-Chancellor, Landmark University, Professor Adeniyi Olayanju has emphasized that the provision of solution to water challenges in communities must be demand-driven, noting that such solutions might conflict with the order of living of the people thereby making the solution inefficient. Professor Olayanju made this remark at the 13th LUCRID Webinar titled, "Water for FOOD: Preserving Clean Water and Exploring the Treated Wastewater Recycling Option" on Thursday 19th August 2021.
According to him, the unclean water system in communities could be traced to poor sanitation resulting from the age-old cultural practices common in rural regions of Africa, the chief of which is open defecation. While calling on governments of African countries to prioritize the provision of clean water and sanitation to their population, he noted that proper education and awareness is necessary to overcome sanitation habits ingrained in many people's daily routine. "Though this is largely because of a lack of toilets and waste management systems, even when these systems are put into place, people's beliefs must change with the infrastructure," he added.
The webinar later had two presentations on the theme from Dr A. S. Aremu, the MD of Lower Niger River Basin Development Authority, (LNRBDA), Ilorin and Dr David Okunade, of the Department of Agricultural and Environmental Engineering, Obafemi Awolowo University, Ile-Ife. In his presentation, Dr Aremu brought to the fore the water and sanitation status of Nigeria to validate the viability of water treatment and recycling as exemplified by the Nigerian government through its Ministry of Water Resources. He, therefore, noted that the increase in population and poor maintenance of the facilities put in place by both government and other non-governmental organizations have undermined the effect of the tremendous improvement in the water system of Nigeria between 2015 and 2021.
Despite the Federal government water intervention programmes in Nigeria and the growing water demand, Dr Okunade believed there must be a reevaluation and exploration of wastewater treatment and recycling option as a viable alternative source of water considering its role in human development, emphasizing that currently, 69% of water goes to agriculture while 21% and 10% are for both domestic and industrial purposes. Among other things, Dr Okunade noted that this option would not only solve farm water scarcity and improve the standard of living of the smallholder farmers but also facilitate sustainable agriculture, national development and food security. He concluded that wastewater treatment should form an integral part of agricultural project implementation and there must be a periodical reassessment of agricultural water use and wastewater recycling.
Today @ LMU
Omu-Aran, NGlight rain 30.15oC
See More >>
Subscribe to our Newsletter
Get the latest news and updates by signing up to our daily newsletter.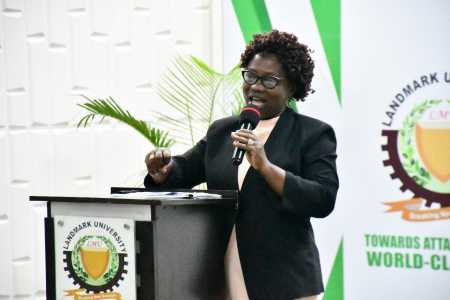 Story of the week
ACTING VC UNVEILS URGENT ACTION PLANS TOWARDS VISION REALIZATION