The Directorate Of Physical Planning and Development Landmark University
MESSAGE FROM THE DIRECTOR
The Directorate of Physical Planning and Development is responsible for developing and maintaining the University Infrastructure for various activities within the University. This has been made possible by the visionary Leadership of the Chancellor, the ingenuity of the Management and also by employing the imperative skills of experienced men and women who work assiduously in the realization of our goals and objectives which have been carried on for years with wonderful results to show forth. Since the commencement of construction work in 2008, the dapartment has continued in the prompt and effective provision and maintenance of world class facilities within the University. With the help of God we intend to keep doing this while we build on our experiences of the past years and make them effective blocks for building a better tommorow as a Unit and as a University.
VISION
The vision of the Directorate is:
To build a world-class, self-sufficient University environment that will boost learning, working and living experiences of the members of the University Community.
OUR MISSION
Our mission statement as a Directorate can be detailed as follows:
•To engender a strong maintenance culture through quick, prompt and effective responses to both projected (pro-active-preventive maintenance) and observed facility needs.
•To ensure provision of effective facility support for all areas of the agrarian revolution drive of Landmark University through consistent collaboration with relevant units and departments (Research farm, Commercial farm, Landmark University Development ventures (LMDV), College of Agric.)
•Creating a perpetually clean, tidy and ambient Campus through commitment to horticultural beautification and aesthetic elaboration of all areas on Campus (Agro-horticulture).
•Effective planning, projection and management of University master plan and facility projection through systematic, conscious execution of all components so approved in line with the vision and academic brief.
•Developing and sustaining a defined procedure for award of contracts, works and jobs in the University in order to foster quality and World-Class deliveries.
DIRECTORATE UNITS AND FUNCTION
DIRECTOR, PPD
•To coordinate all the operations of the sub-units of Directorate of Physical Planning and Development in providing adequate and effective facility support for the agrarian revolution mandate of the University.
•To provide a strong infrastructural development projection document in liaison with all relevant units of the University.
•To implement and supervise the execution of all projects as approved and endowed for quality and standard delivery.
•To explore and research new frontiers in ensuring a world class approach to facility management.
MECHANICAL SERVICES
•Adequate production and distribution of water within the campus.
•Maintenance of plumbing fittings and installation of new mechanical related facilities within the campus.
•Waste and sewage management within campus.
•Supervision of mechanical related project within the campus.
•Supervision of air conditioners installation, repairs, and services.
•Coordination of fire services on campus.
ELECTRICAL SERVICES
•To maintain all electrical facilities in the University, i.e. transformers, generators, electrical networks, etc.
•To ensure 24 hour
s uninterrupted power supply I the University for Smooth Running Operation.
•To ensure that power supplied to end users is user friendly.
•Maintenance of the entire internal installations within the University Community ranging from illumination, socket outlets fan points, etc in offices, resident areas and student's hostels.
•To provide quick reponse to electyrical challenges and emergencies by engaging competent, committed and well experienced staff.
CIVIL WORKS
•Structural design of project; structural analysis, structural drawing.
•Project supervision; roads, building, water stanchion, drainage and walkway, etc.
•Maintenance of existing structures, collapsed fence, chairs and tables, roof and trusses, etc.
•Maintenance of the school Civil Works challenges; changing of doors, frame, cylinder, PVC, suspended ceiling, painting, etc.
DESIGN SERVICES
•Architectural design of buildings and infrastructure.
•Production of working drawings, specifications and construction details.
•Project supervision and inspections.
•Project administration and Coordination of construction processes.
•Design which includes three dimensional representations, graphic designs, animations, print production, and presentation documents.
TRUCK PARK
•To ensure the general clean condition of the campus by constant monitoring of the operation of the refuse disposal section.
•To collaborate with other units by making available our equipment when needed (resource sharing)
•To ensure first class maintenance of all automobiles within the University Community.
•To sustain the Unit's part of the agrarian revolution by ensuring our equipment is available for use.
•To continue to make relevant research and discovery as pertinent to the unit's operations as well as the University at large, towards the realization of the institution's dream and vision.
CAMPUS KEEPERS
•To maintain cleanliness in the university environment
•Supervision of the upkeep and appearance of indoor and outdoor area for comprehensive cleaning.
•To prevent any outbreak of infection due to dirty environment.
•To ensure the staff (campus maintenance) perform their duties according to specification with efficiency.
•To make the campus clean and pleasant for the university community.
•Inform and train campus keepers about procedure and policies that have to be followed while cleaning.
•Creating of work schedules and ensuring that cleaning should be done in an effective and timely fashion.
PARKS AND GARDEN
•Responsible for the establishment and upkeep of the aesthetic beauty of the University Community as a whole.
•Routine maintenance of the University Environment.
Landmark University Physical Features
Topography of the Campus
The University Campus has a relatively undulating topography, with few hills or knolls, while there are two relatively extensive depressions, one very close to the dual carriage road from the main gate of the Campus and the other at the Western axis of the University Orchard.
Rainfall
Omu-Aran experiences heavy and violent rainfall. Weather analysis and report for Ilorin reveals that the rainfall pattern in the area is bimodal with peaks in June and September. (University Master plan April 2010)
Geology
According to the Engineering (Sub-Soil) Investigation Report (2009), geologically, four main rock types- the gneisses, schist, quartzites and pegmatites, underlie the campus.
Hydrology and Surface Drainage
The Campus is drained by Rivers Oisa, Omipupa and Ome and their tributaries. While River Oisa runs through the premises, two of the streams, Omi-pupa and Agba have their sources on the campus. River Oisa is perennial, while the other streams are intermittent. River Omi-pupa forms part of the northern boundary.
The rocks in this area, being well known for their excellent aquifer characteristics, provide very strong base flow in the dry season. Also the river Oisa valley by its constricted form in the middle of the land offers many possible damming sites, for which there is already a plan for a university dam project. Giving the perennial nature of the river, the university authorities should have no problems with developing it for its immediate and future water needs as it has a substantial base flow even during the dry season. Moreover, from the nature of the rocks, groundwater has a good prospect.
Ecology
Omu-Aran is located in the Southern Guinea Savanna Zone, typically open savanna woodland with tall grasses and short trunk trees. It is at the southern fringe of the southern guinea savanna, which corresponds with the climatic limit of continuous forest that links all stations with a mean annual rainfall of at least 1220 mm (48 inches) and lowest mean monthly relative humidity at 0900 hours of not less than 70% (Keay, 1959).
There were evidences of farming in the past all over the Campus area, with relics of crops like Carica papaya (pawpaw), Mangifera indica (mango), Psidium guajava (guava), Musa sps (plantain and banana).
Also relics of forest plantations are seen with grooves of Gmelina arborea (Gambar) and Tectona grandis (Teak) located in some areas. Some of the natural vegetation areas met on the campus included:
•Riparian forest in the low-lying valley at the southwest area of the Campus. The dominant plant species in this area included Alchornea laxiflora (Benth), Anthocleista djalonensis (cabbage tree), Raphia hookeri (raffia palm), Elaeis guineensis (African oil palm), Bambusa vulgaris (Bamboo), etc.
•Bush Fallow: The areas that had been cleared of forest trees to cultivate food crops but had been vacated for some period for the wild plants to re-vegetate the land so that the soil can regain its vigour and noxious weed species can be controlled.
•Forest regrowth: These areas that have been under fallow for long and some indigenous tree species are re-establishing.
EXISTING UTILITIES
Electricity Supply
The Campus is connected to the national grid through 11 no. power distribution transformers of 33KVA/415V transmission capacity and total power output of 6MVA. The total installed power supply capacity is 5.75MVA from 12 generator sets.
The University also has backup generators as alternative power sources as listed in the Table 5 below:
The entire power substations have 500KVA distribution installed and connected to the national grid.
All roads are lined with street lights. We also have flood lights to enhance external illumination at night.
FACILITY MANAGEMENT IN LANDMARK UNIVERSITY: RESPONSIBLE USE AND MAINTENANCE
The proprietors of Landmark University have over the years shown absolute commitment to facility development and infrastructural advancement.
Almost, yearly we witness large sums of funds being invested into massive, world class facilities ranging from academic buildings to residential facilities.
It is therefore expedient that we demonstrate responsibility as we ensure that these provisions are judiciously and effectively managed.
This accounts for why the University mandates a full Directorate to be in charge of the maintenance activities off the University estate.
FACILITY MANAGEMENT DEFINED:
Amongst other things, facility management seeks to promote effective, careful and thoughtful utilization of properties in order to maximize comfort and convenience". (Sina-Olulana. 2015) In other words, when a facility is misused or wrongly handled, it can jeopardize comfort, safety, health and security.
Effective in this context refers to: using a facility for the intended design (original use). Careful in that phrase represents: Using facility with absolute caution e.g. door punching, slamming and forceful entries. These would cumulate in damages which in turn jeopardize security, safety and comfort.
Thoughtful expects using a public facility just like you will handle yours. Remembering that responsibility is one of our core values as a University the ownership mentality is a major expectation from all stakeholders.
We have a University management that is committed to prompt maintenance of its infrastructure base and the Directorate of Physical Planning and Development has been saddled with the responsibility of ensuring that this is efficiently carried out.
In doing this, the department has also put a system in place to effectively dispatch this assignment, through the following different units:
Electrical Services

Mechanical Services

Civil Works

Hostel and Estate Services

Campus Maintenance unit
To see to the effective and proper maintenance of all electrical installations and facilities within the University campus in order to support and encourage activities geared towards making the University a world class institution.
These activities include the following:
Installation of electrical facilities.

Upgrading current facilities to meet up with growing technological standards.

Maintaining alternative power sources for uninterrupted supply of electricity to the premises.
To see to the effective and proper maintenance of all plumbing, piping and other mechanical installations including refrigerators and air-conditioners within the University campus in order to support and encourage activities geared towards making the University a world class institution.
These activities include the following:
Installation of Mechanical support systems.

Upgrading current facilities to meet up with growing technological standards.

Maintaining alternative water sources to the already laid municipal network within the campus
To see to the effective and proper maintenance of all civil related facilities (metal works, furniture works, aluminum etc) within the University campus in order to support and encourage activities geared towards making the University a world class institution.
Structural design of project; structural analysis, structural drawing.

Project supervision; roads, building, water stanchion, drainage and walkway .e.t.c.
Hostel and Estate Maintenance Unit
Presently, about 222 housing units are existent on campus with about 4500 bed spaces available in the students' Halls of Residence. Other support facilities also exist to make residential life on campus interesting and comfortable. This particular unit ensures that the facilities made available in these estates are well maintained and preserved for functionality and convenience.
Campus/Utility Maintenance Unit
Landmark University maintains a very serene and clean campus environment that is defined by beautifully carved horticultural elements. The Campus Maintenance Unit which comprises of the Janitorial services, Truck Park Unit and the Horticultural services with combined staff strength of close to 300 workers is saddled with the responsibility of ensuring the maintenance of these facilities.
RESPONSIBLE USE OF FACILITIES AS EXPECTED FROM THE STUDENTS
Students of Landmark University are persons of royalty and noble identities referred to as Kings and Queens. Therefore, so much is expected of in the way and manner the students make use of the facilities made available. The following amongst others, are some of the wrong maintenance practices not expected from students of Landmark University.
Defacing of walls /inscription on walls is not acceptable.

Tampering with mechanical or electrical installations is both illegal and dangerous. e.g. breakers, distribution boards, panels, water valves etc.

Bathing or urinating in the laundries or even the bedrooms is not acceptable and not royal. The conveniences are adequately provided.

Tearing of the mattress foams for whatever reasons is a capital offence.

Writing on bedroom doors, wardrobe doors, toilet tiles or window blinds

Standing on the student's bunks.

Playing of football on the corridors is not acceptable as this may result into breakages.

Spreading of cloths on the corridors railings is also not allowed and it defaces the walls of the hostels. Cloth lines are available in the courtyards for such purposes.

Washing of cloths in the rooms or corridors is not encouraged as slippery tiles may result into hazards.
Subscribe to our Newsletter
Get the latest news and updates by signing up to our daily newsletter.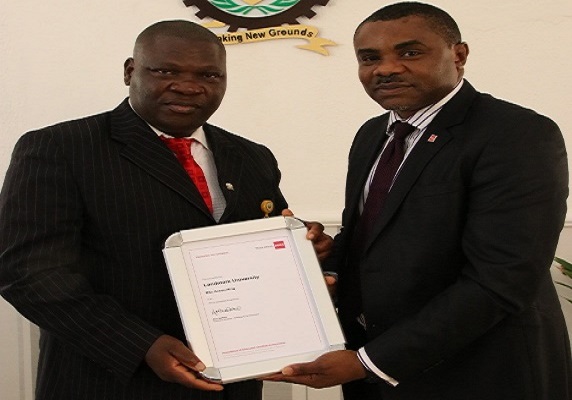 Story of the week
LMU RECEIVES ACCA'S ACCREDITATION PLAQUE