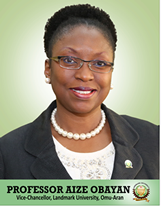 The establishment of Landmark University represents another important milestone in Nigeria's educational history. It also further underscores the efficacy of the powers of God in the affairs of men, and the determination of the proprietors to impact positively the nation's educational landscape. The University is coming on board at a time when the country's public educational system is in dire straits, with incessant strikes by contending labour unions in the industry, declining fortunes of faculty and staff, partly attributed to a debilitating underfunding of the system, social unrest among students, manifesting in the high incidence of cultism and other negative vices.

Today Landmark University has emerged as a response to these challenges. The University is poised, not only to "breaking new grounds" as our motto suggests, but also to leaving our footprints on the sand of time.
Our unique selling point is our resolve to building a new generation of God fearing statesmen and women committed to the ideals of discipline, hard work and integrity. We are desirous of seeing a University where respect and value are accorded the dignity of labour. We have come to challenge a status-quo that is anchored on a pervasive get-rich-quick syndrome, where acquisitive mentality and consumerism have taken the place of genuine productive activities.The tragedy of the above scenario is the growing inability of our nation, and indeed other developing countries, to feed their citizens. Today, hunger and poverty are twin components of our political economy, owing primarily to the neglect of the agricultural sector, and the unbridled lust for imported goods and ostentatious lifestyle. The end product, as scholars have pointed out, is that we have become a nation that produces what we do not eat and eat what we do not produce.
Consequently, at Landmark University, we have set as our primary objective a commitment towards an agricultural revolution. We are determined to contribute our quota to the rejuvenation of this key sector of our national life, through massive investment of our financial, intellectual and material resources to teaching, research and community development in our College of Agriculture. In doing so, we shall make Landmark Farm not just an enviable center of excellence, but also a food basket of the nation.Towards achieving this, the proprietors of the institution have embarked on massive investment in infrastructural facilities on the campus. Befitting structures are in place to facilitate sound teaching and research for both faculty and staff. Today the Landmark Farm is thriving, and its poultry products are already making waves in the market.
In addition, the other two Colleges (under the first phase), Science and Engineering; and Business and Social Sciences represent veritable platforms toward making vital contributions to the social, economic and technological developments of the nation and beyond. As a University, our goal is to engender in our students the right entrepreneurial spirit that will birth a new generation of job providers at graduation, using as a medium the advantages inherent in modern Information and Communication Technology (ICT). Therefore as an ICT driven University, students' proficiency in this area constitutes our utmost priority. By so doing, we are determined to take our science and engineering feats in research and development beyond the four walls of our classrooms to the streets, with a view to impacting positively our immediate and wider environments.This is a task we are fully committed, and we welcome on board faculty, staff, students and the external publics with similar passion for this vision, which we believe will culminate in a generational change for our nation and humanity at large. At Landmark, our mandate is to "mark the land" for social rejuvenation, economic transformation, scientific exploits and improved human dignity, and in the process, pointing attention to the capacity of the black race to transform its life and environment using the God-given resources at its disposal.
Professor Aize Olohigbe Imouokhome Obayan
Vice Chancellor.