LMU INAUGURATES 2017/2018 MANAGEMENT MEMBERS
LMU INAUGURATES 2017/2018 MANAGEMENT MEMBERS, SEEKS CONTINUOUS ADVANCEMENT VIA TEAM WORK
On Monday, 28th August 2017, the Vice-Chancellor, Professor Adeniyi Olayanju, inaugurated the 2017/2018 Management team of the University.
The Vice-Chancellor, while positioning the roles of Management in the vision and mission as well as driving the core values of the University, advocated that Management should be seen as "a group of purposeful individuals that accept responsibilities to run effectively and efficiently an organization in line with its vision by engaging in the activities of setting and implementing the strategic plans of the organization, and coordinating the corporate goal-driven efforts of its employees through the judicious application of the available resources towards actualizing the ultimate mandate of the organization".
The Vice-Chancellor, therefore, charged the newly inaugurated University officials on the need to work together as a team in line with the University's vision in order to advance the existing foundation.
Earlier on, Prof Olayanju had appreciated all Members of Management on behalf of the Chancellor, Dr. David Oyedepo for their unquantifiable contributions to the growth and development of Landmark University in the last Academic Session."Without you, there is no us, because no single individual can pilot the affairs of this University. I have been able to flow smoothly since I came because a solid foundation has been laid by the last administration, in terms of the availability of the Strategic Plan, Research Agenda and other vital documents which are points of reference any day. We highly appreciate the support you have given me and the Registrar since we came. I want to assure you that there is blessedness of service. God always blesses those who serve him, so be available when you are needed and whatever assignment you are given please do it as unto the Lord."
After the Vice-Chancellor's remarks, there was a session of interaction where Members of Management made comments on the activities of the last Academic Session and observations on the areas that require the attention of the Management, as the University commenced the 2017/2018 Academic Session.
With the Vice-Chancellor at the top of the list, others include: The Registrar – Dr Azuibike Ezenwoke; DFS - Pastor Frederick Aghahuwa; DLUF - Dr. John Izebere; DCLR - Mrs Felicia Yusuf; DPPD - Arc Opeyemi Sina-Olulana; Chaplain - Pastor P.A. Oluyori; DSPS- Professor Olusola O. Agbede; DCAS - Professor Charity Aremu; DCBS - Dr. A. Nwozor; DCSE - Dr J.O. Ojediran; DSA - Dr. Ogadinma Arisukwu; DAP - Dr. B.O. Adebesin; DCSIS - Engr. Olaleye Oladipo; DHS - Dr. Ademola Adebanjo; DUWC - Dr. J. Ndako; DEDS - Dr. A.O. Otekunrin; BM-LMDV - Mr. Olufemi Adetifa; HOD, Agriculture - Professor M. O. Bamiro; HOP, Soil & Crop Science - Dr. MrsE.T. Alori; HOP, Animal Science - Dr. I. J. James; HOP, Agric. Econs and Extension - Professor J. Akangbe; HOD, Agric & Biosystem Eng - Dr. A. A. Okunola; HOD, Chemical Engineering - Dr O. Olawale; HOD, Civil Engineering - Dr. S.O. Oladejo; HOD, EIE - Professor F.E. Ibikunle; HOD, Mechanical Engineering - Professor C. O. Osueke; HOD, Biological Sciences - Professor O.O. Osemwegie; HOD, Computer Science - Professor A. Okeyinka; HOD, Physical Science - Dr. O. Adebimpe; HOP, Biochemistry- Professor O. Ademuyiwa; HOP, Chemistry - Professor F.E. Adelowo; HOP, Mathematics - Dr. N.K. Oladejo; HOP, Microbiology - Dr. O. B. Akpor; HOP, Physics - Dr. Stephen Ikubanni; HOD, Accounting and Finance - Dr T. Nwanji; HOD, Economics - Dr. J.I. Adama; HOD, Business Studies - Dr. E. M. Alao; HOD, Sociology - Dr. F. Asamu and HOD, Political Science - Dr. E. O. Oke.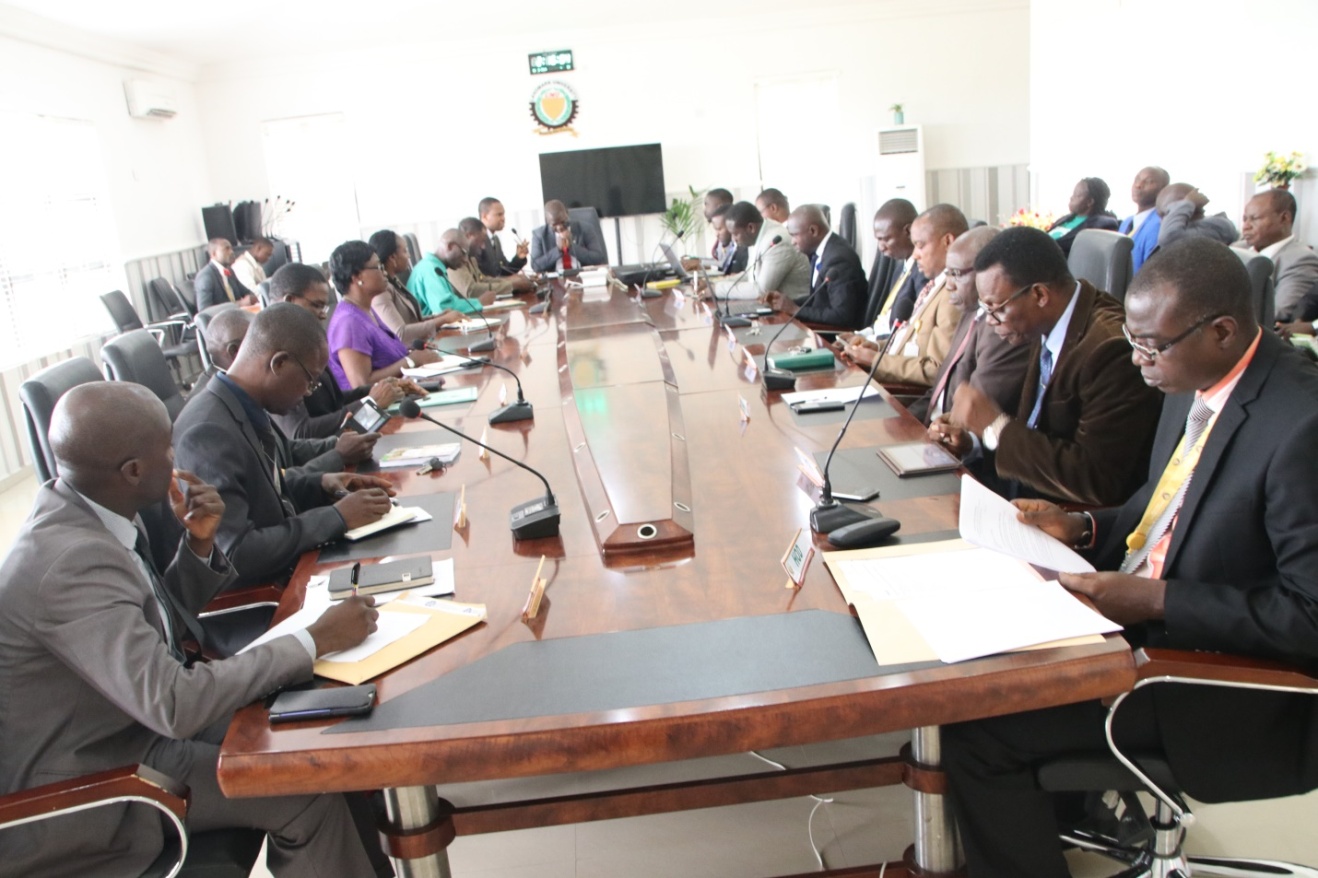 A cross section of the newly inaugurated members of Management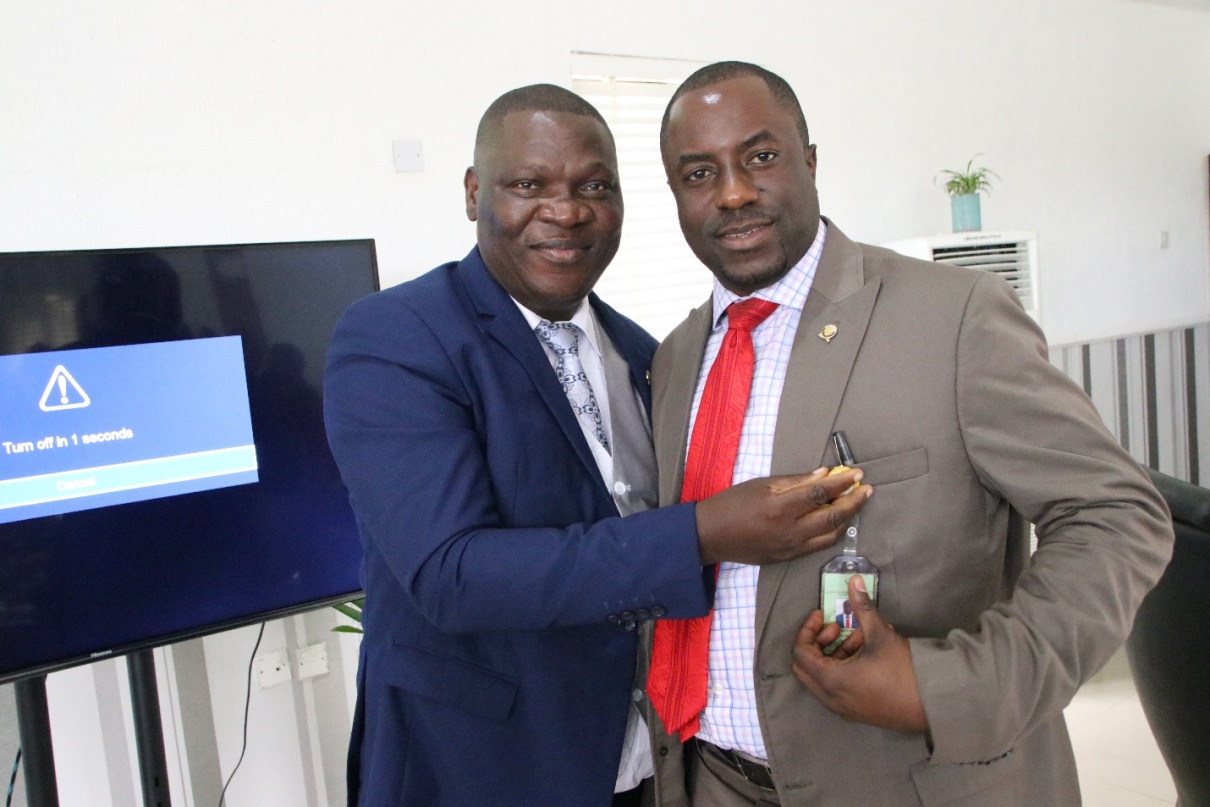 The Vice-Chancellor, Professor Olayanju decorating the Director of Financial Services, Pastor Frederick Aghahuwa during the LMU 2017/2018 Management Inauguration.
Today @ LMU
Omu Aran, NGfew clouds 21.11oC
See More >>
00:00:0022.49oC scattered clouds
3.96 m/s 986.09 hPa
03:00:0022.07oC scattered clouds
3.67 m/s 983.64 hPa
06:00:0022.05oC light rain
3.61 m/s 984.07 hPa
09:00:0027.03oC clear sky
3.86 m/s 985.33 hPa
12:00:0029.02oC light rain
2.76 m/s 983.7 hPa
15:00:0025.66oC moderate rain
1.85 m/s 982.85 hPa
18:00:0024.64oC light rain
2.66 m/s 983.56 hPa
21:00:0022.65oC few clouds
2.72 m/s 985.34 hPa
Subscribe to our Newsletter
Get the latest news and updates by signing up to our daily newsletter.
Story of the week
NIAE VISITS LMU, PLEDGES SUPPORT FOR THE UNIVERSITY'S AGRARIAN VISION